Sununu knocks GOP voters at Trump town hall: 'It was embarassing'

The Hill
5/12/2023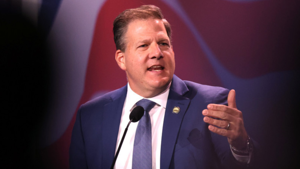 New Hampshire Gov. Chris Sununu (R) criticized the Republican voters from his home state who appeared at CNN's town hall with former President Trump for their reaction to his mocking of author E. Jean Carroll. 
"It was embarrassing," Sununu told MSNBC's Jen Psaki in an interview set to air Sunday.  
"The audience was absolutely filled with Trump supporters, so I wasn't surprised to hear the support," he said. "But when you're talking about a serious issue like that, and laughter and mocking and all that, it's completely inappropriate, without a doubt." 
Trump once again dismissed Carroll's allegations that he raped her in a department store dressing room in the mid-1990s, calling her a "whack job" at Wednesday's town hall. Just one day earlier, a jury found that the former president had sexually abused and defamed Carroll, ordering him to pay $5 million in damages.
"This is a fake story. Made-up story," Trump quipped, later adding, "I have no idea who the hell she is. She's a whack job."
"What kind of a woman meets somebody and brings them up and within minutes you're playing hanky-panky in a dressing room," he said, eliciting laughter from the audience.
Sununu, who is mulling a 2024 White House run, acknowledged that the town hall didn't "shine a positive light" on his home state of New Hampshire. However, he argued that "almost all" of the audience members were Trump supporters.
"Maybe they're undeclared voters, but I believe every single one of them had voted for Trump at some point," he said. "I don't know … how they determined that and set that up, but obviously it was a roomful of Trump supporters."
"So no one should have been surprised to hear the support," Sununu added. "But again, on that issue, it was — I would call it embarrassing."
For the latest news, weather, sports, and streaming video, head to The Hill.