Andrew Yang (D) dropped out Feb. 11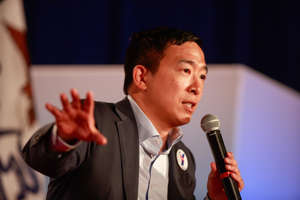 Editor's note: Andrew Yang dropped out of the race Feb. 11, 2020. This page is no longer being updated.
Andrew Yang is a U.S. 2020 Democratic presidential candidate, entrepreneur, attorney, philanthropist, and founder of Venture for America. 

He worked in startups and early-stage growth companies as a founder or executive from 2000 to 2009.
After he founded VFA, the Obama administration selected him in 2012 as a "Champion of Change" and in 2015 as a "Presidential Ambassador for Global Entrepreneurship."
Born: Jan. 13, 1975 (age 45)
Spouse: Evelyn Yang
Official site: yang2020.com 
ON KEY ISSUES:
Minimum wage:  Supports leaving minimum wage up to states
Electoral college: Does not support eliminating the electoral college
Climate change:  Supports the Green New Deal
Gun control: Supports a voluntary buyback program and universal background checks
Health care: Supports Medicare for all
(Positions compiled by Politico. Click here for a detailed look at Andrew Yang's views and where other 2020 candidates stand on the issues.)
RELATED CONTENT:  
Clock is running: People like Andrew Yang, even if they support someone else. That's why Yang finds himself heading into the New Hampshire primary sixth in the polls, having just fired dozens of staffers, and looking for a rationale to hang on. (Politico)
"Missed opportunity": As the Obama administration reached a pivotal crossroads, Yang said in an interview, it chose to aid Wall Street over Main Street. (Business Insider) 
Bipartisan appeal? Andrew Yang jokes that he is President Trump's "worst nightmare" heading into the 2020 elections and that his supporters "kind of like me." (The Hill) 
COMPLETE PROFILE:

Who is Andrew Yang? An in-depth look at his biography, family, key positions and where he stands in the race. (Business Insider)