Beto O'Rourke (D) dropped out Nov. 1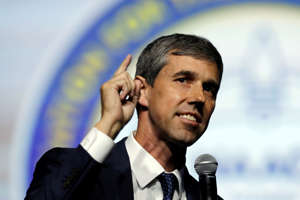 Editor's note: Beto O'Rourke officially dropped out of the presidential race on Nov. 1, 2019. This page is no longer being updated.
Robert Francis "Beto" O'Rourke is an American politician who represented Texas's 16th congressional district in the United States House of Representatives from 2013 to 2019. 

O'Rourke is seeking the Democratic nomination for President of the United States in 2020.
Born: Sep. 26, 1972 (age 47)
Past office: Representative TX 16th District (2013 - 2019)
Spouse: Amy Hoover Sanders
Official site: betoorourke.com
ON KEY ISSUES:
Minimum wage: Supports $15/hour federal minimum wage
Electoral college: Supports eliminating the electoral college
Climate change: Supports the Green New Deal
Gun control: Supports universal background checks
Health care: Opposes Medicare for All, but would expand coverage
(Positions compiled by Politico. Click here for a detailed look at Beto O'Rourke's views and where other 2020 candidates stand on the issues.)
Microsoft News candidate guide: Learn about any or all of the other Democratic contenders 
COMPLETE PROFILE:
Who is Beto O'Rourke? An in-depth look at his biography, family, key positions and where he stands in the race. (Business Insider)
RELATED CONTENT:
Equality: Beto O'Rourke has unveiled a plan featuring proposals that would mandate equal pay, require accommodations for pregnant women and reduce child care costs. (CNN)
Gun challenge: Beto O'Rourke is calling on his fellow 2020 primary opponents to sign onto the March for Our Lives plan that outlines a progressive gun reform policy agenda. (The Hill)
On the lines: Beto O'Rourke visited with United Auto Workers members striking outside a General Motors distribution facility, praising what they were doing as a defense for the nation's middle class. (Journal-News)