Bill de Blasio (D) dropped out Sept. 19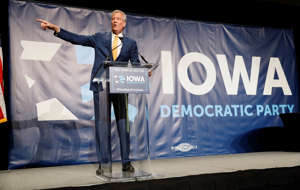 Editor's note: Bill de Blasio dropped out of the race Sept. 19, 2019. This page is no longer being updated.
Bill de Blasio is an American politician who since 2014 has served as the 109th Mayor of New York City.
Prior to his first election to the position of mayor, he served as New York City's public advocate from 2010 to 2013.
Born: May 08, 1961 (age 58)
Current office: Mayor of New York City (Since 2014)
Spouse: Chirlane McCray
Official site: https://billdeblasio.com/

ON KEY ISSUES:
Minimum wage:  Supports $15/hour federal minimum wage
DACA: Citizenship for Dreamers
Climate change:  Supports the Green New Deal

Death penalty: Abolish it
Health care:  All in on Medicare for All
(Positions compiled by Politico. Click here for a detailed look at Bill de Blasio's views and where other 2020 candidates stand on the issues.)
Microsoft News candidate guide: Learn about any or all of the other Democratic contenders
COMPLETE PROFILE:
Who is Bill de Blasio? An in-depth look at his biography, family, key positions and where he stands in the race. (Business Insider)
RELATED CONTENT:
Why he got in: De Blasio is hoping that he will be able to stand out from the myriad other contenders, and not just because he is the tallest candidate in the race at 6'5". (CBS News)
Power outage: New York Mayor Bill de Blasio thinks he's so good at his job, he doesn't need to be in the five boroughs to do it. (New York Daily News)