Cory Booker (D) dropped out Jan. 13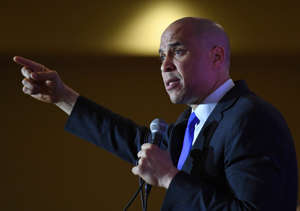 Editor's note: Cory Booker officially dropped out of the presidential race on Jan. 13, 2020. This page is no longer being updated.
Cory Anthony Booker is an American politician serving as the junior United States Senator from New Jersey since 2013 and a member of the Democratic Party. The first African-American U.S. Senator from New Jersey, he was previously the 36th Mayor of Newark from 2006 to 2013. Before that, Booker served on the Municipal Council of Newark for the Central Ward from 1998 to 2002. 

On February 1, 2019, he announced his campaign to run for the Democratic nomination for President of the United States in the 2020 United States presidential election.
Born: April 27, 1969 (age 50)
Current office: Senator D-NJ (Since 2013)
Official site: https://corybooker.com/

ON KEY ISSUES:
Minimum wage:  Supports $15/hour federal minimum wage
Electoral college: Supports eliminating the electoral college
Climate change:  Supports the Green New Deal
Gun control: Favors assault weapons ban, favors universal background checks
Health care: Favors Medicare for All, but would accept Medicare for some
(Positions compiled by Politico. Click here for a detailed look at Cory Booker's views and where other 2020 candidates stand on the issues.)
COMPLETE PROFILE:

Who is Cory Booker? An in-depth look at his biography, family, key positions and where he stands in the race. (Business Insider)
RELATED CONTENT:
Where Booker stands on health care: Part of a series on candidates' positions on current issues from USA Today.
Sports reform: Cory Booker thinks college athletes are being exploited, and he has some ideas to remedy the problem. (CBS News)

Judging judges: Cory Booker said Americans' individual freedoms are under attack, so preserving them would be a "fundamental pillar" of his decision-making process for federal judicial appointments. (Des Moines Register)
Prison reform: Booker's proposal takes direct aim at life imprisonment and mandatory minimum sentences imposing decades in prison. (Vox)