The candidate: Elizabeth Warren (D)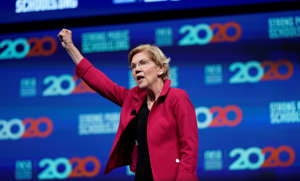 Editor's note: Elizabeth Warren (D) dropped out of the race March 5, 2020. This page will no longer be updated.
Elizabeth Ann Warren is an American politician and former academic serving as the senior United States Senator from Massachusetts since 2013. Warren was formerly a law school professor specializing in bankruptcy law. A progressive, she has focused on consumer protection, economic opportunity, and the social safety net while in the Senate.

Some commentators describe her position as left-wing populism.
Born: June 22, 1949 (age 70)
Office: Senator D-MA (Since 2013)
Spouse: Bruce Mann
Official site: https://www.warren.senate.gov/

ON KEY ISSUES:
Minimum wage:  Supports $15/hour federal minimum wage
Electoral college:  Supports eliminating the electoral college
Climate change:  Supports the Green New Deal
Gun control:  Favors assault weapons ban, favors universal background checks
Health care: All in on Medicare for All
(Positions compiled by Politico. Click here for a detailed look at Elizabeth Warren's views and where other 2020 candidates stand on the issues.)
RELATED CONTENT: 
Fighting disinformation: Elizabeth Warren has released a plan to fight online disinformation ahead of the 2020 election, warning that the country is ill-prepared to combat the scourge of false information and "fake news" certain to spread across Facebook, Google, Twitter and other platforms. (The Hill) 
"Women win!": Since last month's dust-up with Bernie Sanders over questions about whether the nation is ready to elect a woman as president, Warren's answers about gender are getting more explicit. (NBC News)
Primary problem: The co-chairwoman of Elizabeth Warren's presidential campaig, said the order of the primary nominating contests should change, citing a lack of diversity in the earliest states. (The Hill)
COMPLETE PROFILE:

Who is Elizabeth Warren? An in-depth look at her biography, family, key positions and where she stands in the race. (Business Insider)