The candidate: Jay Inslee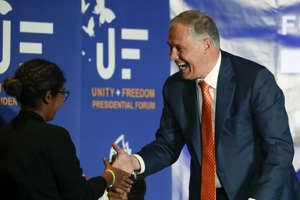 Editor's note: Jay Inslee dropped out of the presidential race on Aug. 21, 2019.
Jay Robert Inslee is an American politician, author, and lawyer serving as the 23rd and current governor of Washington since 2013.
A Democrat, he served in the United States House of Representatives from 1993 to 1995 and then again from 1999 to 2012.
Born: Feb. 09, 1951 (age 68)
Current office: Governor of Washington - D (Since 2013)
Spouse: Trudi Inslee
Official site: https://jayinslee.com/

ON KEY ISSUES:

Minimum wage:  Supports $15/hour federal minimum wage
Electoral college: Supports eliminating the electoral college
Climate change:  Supports the Green New Deal
Health care: Opposes Medicare for All, but would expand coverage
DACA: Supports citizenship for Dreamers
(Positions compiled by Politico. Click here for a detailed look at Jay Inslee's views and where other 2020 candidates stand on the issues.)
Microsoft News candidate guide: Learn about any or all of the other Democratic contenders
COMPLETE PROFILE:

Who is Jay Inslee? An in-depth look at his biography, family, key positions and where he stands in the race. (Business Insider)
RELATED CONTENT:
Climate concern: Jay Inslee's hefty stack of proposals to curb greenhouse gas emissions and phase out fossil fuels landed him atop a new list ranking of 2020 presidential contenders. (Huffington Post)
Getting personal: In the lighter side of an interview with Politico, Jay Inslee talked about listening to Carole King, wanting an anchor tattoo. (Politico)