John Delaney (D) dropped out Jan. 31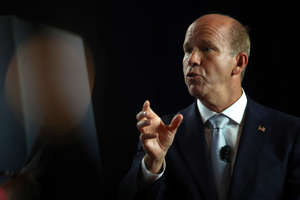 Editor's note: John Delaney officially dropped out of the presidential race on Jan. 31, 2020. This page is no longer being updated.
John Kevin Delaney is an American attorney, businessman, and politician who is running for President of the United States in 2020. 

He was the United States Representative for Maryland's 6th congressional district from 2013 to 2019. He is a centrist Democrat.
Born: April 16, 1963 (age 56)
Previous office: Representative MD 6th District (2013 - 2019)
Spouse: April Delaney
Official site: https://www.johndelaney.com/

ON KEY ISSUES:
Minimum wage:  Supports $15/hour federal minimum wage
Electoral college: Does not support eliminating the electoral college
Nuclear power: Supports nuclear power
Gun control: Favors assault weapons ban, favors universal background checks
Health care: Opposes Medicare for All, but would expand coverage
(Positions compiled by Politico. Click here for a detailed look at John Delaney's views and where other 2020 candidates stand on the issues.)
RELATED CONTENT:

Getting in, staying in: John Delaney always knew that his campaign would be a long shot. His hope was that by getting in almost absurdly early, he could generate more attention, make himself less of a long shot. (The Atlantic)
Where Delaney stands on health care: Part of a series on candidates' positions on current issues from USA Today.

Fighting shape: The strongest 2020 Democrat deadlifts 350 lbs and works out constantly in Iowa hotels. (Washington Examiner)

COMPLETE PROFILE: 

Who is John Delaney? An in-depth look at his biography, family, key positions and where he stands in the race. (Business Insider)