The candidate: John Hickenlooper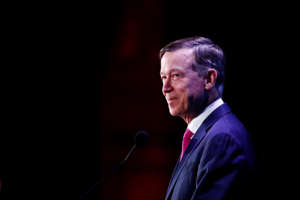 © ap Democratic presidential candidate former Colorado Gov. John Hickenlooper speaks during a forum on Friday, June 21, 2019, in Miami. (AP Photo/Brynn Anderson)

Editor's note: Hickenlooper officially dropped out of the presidential race on Aug. 15, 2019.
John Wright Hickenlooper Jr. is an American politician, scientist, and businessman who was the 42nd governor of Colorado from 2011 to 2019. He is a member of the Democratic Party. 

In 2019 he announced his candidacy for President of the United States in 2020.
Born: Feb. 07, 1952 (age 67)
Past offices: Governor of Colorado (2011 - 2019), Mayor of Denver (2003 - 2011)

Spouse: Robin Pringle
Official site: https://www.hickenlooper.com/

ON KEY ISSUES:
Minimum wage:  Supports $15/hour federal minimum wage
Electoral college: Does not support eliminating the electoral college
Nuclear power:  Supports nuclear power
DACA: Supports citizenship for Dreamers
Health care: Opposes Medicare for All, but would expand coverage
(Positions compiled by Politico. Click here for a detailed look at John Hickenlooper's views and where other 2020 candidates stand on the issues.)
Microsoft News candidate guide: Learn about any or all of the other Democratic contenders
COMPLETE PROFILE:
Who is John Hickenlooper? An in-depth look at his biography, family, key positions and where he stands in the race. (Business Insider)