Julián Castro (D) dropped out Jan. 2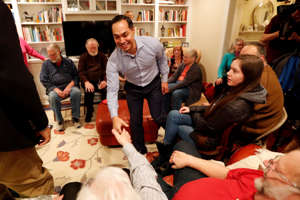 Editor's note: Julián Castro officially dropped out of the presidential race on Jan. 2, 2020. This page is no longer being updated.
Julián Castro is an American Democratic politician who was the youngest member of President Obama's Cabinet, serving as the 16th United States Secretary of Housing and Urban Development from 2014 to 2017.

Born: Sep. 16, 1974 (age 45)
Previous offices: United States Secretary of Housing and Urban Development (2014 - 2017); Mayor of San Antonio (2009 - 2014)
Spouse: Erica Lira Castro
Official site: https://www.julianforthefuture.com/

ON KEY ISSUES:

Minimum wage:  Supports $15/hour federal minimum wage
Electoral college: Supports eliminating the electoral college
Climate change:  Supports the Green New Deal
Gun control: Supports a voluntary assault weapons buyback, universal background checks
Health care: Favors Medicare for All, but would accept Medicare for some
(Positions compiled by Politico. Click here for a detailed look at Julián Castro's views and where other 2020 candidates stand on the issues.)
COMPLETE PROFILE: 

Who is Julian Castro? An in-depth look at his biography, family, key positions and where he stands in the race. (Business Insider)
RELATED CONTENT: 
Path to presidency: The former San Antonio mayor and Obama administration cabinet secretary is continuing the pattern he started at the first debate: Look for a candidate who is polling better, raising more money and drawing more media attention, and punch him in the gut. (Corpus Christi Caller Times)
All in the family: Julián Castro's Mom Always Wanted Him to Be This Outspoken (The New York Times)
Growing up with gun violence: "I remember ducking behind the back seat of a car, because people were shooting at each other - in the ninth grade," Castro shared recently (The Hill)