Kirsten Gillibrand (D) dropped out Aug. 28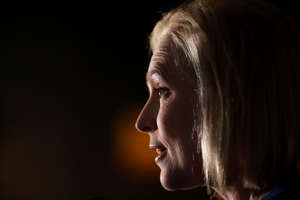 Editor's note: Kirsten Gillibrand dropped out of the race Aug. 28, 2019. This page is no longer being updated.
Kirsten Elizabeth Gillibrand is an American attorney and politician who went by the name Tina Rutnik until after college. She currently serves as the junior United States Senator from New York since 2009. 

A member of the Democratic Party, she was a member of the U.S. House of Representatives from 2007 to 2009.
Born: Dec. 09, 1966 (age 53)
Current office: Senator D-NY (Since 2009)

Spouse: Jonathan Gillibrand

Official site: https://kirstengillibrand.com/

ON KEY ISSUES:
Minimum wage:  Supports $15/hour federal minimum wage
Electoral college: Supports eliminating the electoral college
Climate change:  Supports the Green New Deal
Gun control: Favors assault weapons ban, favors universal background checks
Health care: Favors Medicare for All, but would accept Medicare for some
(Positions compiled by Politico. Click here for a detailed look at Kirsten Gillibrand's views and where other 2020 candidates stand on the issues.)
Microsoft News candidate guide: Learn about any or all of the other Democratic contenders
COMPLETE PROFILE:
Who is Kirsten Gillibrand? An in-depth look at her biography, family, key positions and where she stands in the race. (Business Insider)
RELATED CONTENT:
Her plan to beat Trump: "I have a vision for this country that's bigger and bolder than what President Trump has ever even imagined. And I have the experience and a plan to actually get it done." (Marie Claire)
White privilege: Gillibrand's campaign-trail comments about white privilege got wide attention. "I travel with a staff member who's black and I see how she's being treated differently when we walk into a hotel," Gillibrand said. "I've seen it and it infuriates me." (The Hill)