Marianne Williamson (D) dropped out Jan. 10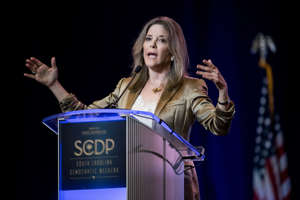 Editor's note: Marianne Williamson officially dropped out of the presidential race on Jan. 10, 2020. This page is no longer being updated.
Marianne Deborah Williamson is an American author, lecturer, and activist. She has written 13 books, including 4 New York Times number one bestsellers within the "Advice, How To and Miscellaneous" category. She is the founder of Project Angel Food, a volunteer food delivery program that serves home-bound people with AIDS and other life-threatening illnesses. 

She is also the co-founder of the Peace Alliance, a nonprofit grassroots education and advocacy organization supporting peace-building projects.
Born: July 8, 1952 (age 67)
Official site: https://www.marianne2020.com/

ON KEY ISSUES:
Minimum wage:  Supports $15/hour federal minimum wage
Electoral college: Supports eliminating the electoral college
Climate change:  Supports the Green New Deal
Gun control: Favors assault weapons ban, favors universal background checks
Health care: Favors Medicare for All, but would accept Medicare for some
(Positions compiled by Politico. Click here for a detailed look at Marianne Williamson's views and where other 2020 candidates stand on the issues.)
COMPLETE PROFILE:

Who is Marianne Williamson? An in-depth look at her biography, family, key positions and where she stands in the race. (Business Insider)
RELATED CONTENT:
Where Williamson stands on health care: Part of a series on candidates' positions on current issues from USA Today.
No crystals: A quick scan of the Instagram or Twitter hashtag "Marianne Williamson" conjures up facetious memes painting the author as a rose quartz devotee, essential oil hawker and New-Agey character.. She's no longer amused. (Yahoo News) 
Well-funded: Marianne Williamson raises $3 million in third quarter, doubling her previous haul. (CNN)
Loyal following: "I call her a modern-day prophet": Marianne Williamson's followers want you to give her a chance. (Vox)