Michael Bennet (D) dropped out Feb. 11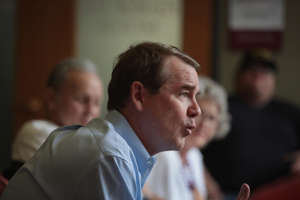 Editor's note: Michael Bennet dropped out of the race Feb. 11, 2020. This page is no longer being updated.
Michael Farrand Bennet is an American businessman, lawyer, and politician serving as the senior United States Senator from Colorado since 2009. A member of the Democratic Party, he was appointed to the seat when Senator Ken Salazar became Secretary of the Interior. 

Bennet previously worked as a managing director for the Anschutz Investment Company, chief of staff to Denver Mayor John Hickenlooper, and Superintendent of Denver Public Schools.
Born: Nov. 28, 1964 (age 55)
Current office: Senator D-CO (Since 2009)
Spouse: Susan Daggett
Official site: https://michaelbennet.com/

ON KEY ISSUES:

Minimum wage:  Supports $12/hour federal minimum wage
Electoral college: Supports eliminating the electoral college
DACA: Supports citizenship for Dreamers
Gun control: Favors assault weapons ban, favors universal background checks
Health care: Opposes Medicare for All, but would expand coverage
(Positions compiled by Politico. Click here for a detailed look at Michael Bennet's views and where other 2020 candidates stand on the issues.)
RELATED CONTENT:  
Last hurrah?: The 55-year-old U.S. senator's cash-strapped campaign to be the Democratic presidential nominee — focused almost singularly on New Hampshire's first-in-the-nation primary for the last few months — appears to be headed for a quiet conclusion when voting ends Tuesday night. (The Denver Post)
His big bet: Michael Bennet, longshot-in-chief, stakes White House bid on N.H. (Boston Globe)
The real deal: Presidential hopeful Michael Bennet is releasing a $6 trillion plan that he calls "the Real Deal" in an attempt to offer what he says is a more realistic contrast with more liberal contenders for the Democratic nomination. (AP)
COMPLETE PROFILE:

Who is Michael Bennet? An in-depth look at his biography, family, key positions and where he stands in the race. (Business Insider)