Seth Moulton (D) dropped out Aug. 23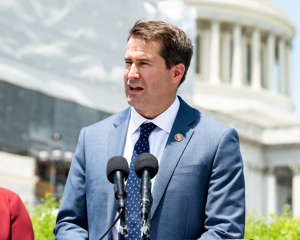 © Getty WASHINGTON, D C , UNITED STATES - 2019/07/10: U.S. Representative Seth Moulton (D-MA) speaking in favor of inclusion of House Amendment # 270 to the National Defense Authorization Act (NDAA) aimed at preventing war with Iran, at the Capitol in Washington, DC. (Photo by Michael Brochstein/SOPA Images/LightRocket via Getty Images)

Editor's note: Seth Moulton dropped out of the race on Aug. 23, 2019. This page is no longer being updated.
Seth Wilbur Moulton is an American politician serving as the U.S. Representative for Massachusetts's 6th congressional district since 2015. 

A former Marine Corps officer, he is a member of the Democratic Party.
Born: Oct. 24, 1978 (age 40)
Current office: Representative D-MA 6th District (Since 2015)
Spouse: Liz Boardman
Official site: sethmoulton.com
ON KEY ISSUES:
Minimum wage:  Supports $15/hour federal minimum wage
Electoral college: Supports eliminating the electoral college
Climate change:  Supports the Green New Deal
DACA: Supports citizenship for Dreamers
Health care: Opposes Medicare for all, but would expand coverage
(Positions compiled by Politico. Click here for a detailed look at Seth Moulton's views and where other 2020 candidates stand on the issues.)
Microsoft News candidate guide: Learn about any or all of the other Democratic contenders 
COMPLETE PROFILE:
Who is Seth Moulton? An in-depth look at his biography, family, key positions and where he stands in the race. (Business Insider)
RELATED CONTENT:
McChrystal clear: Retired general endorses Seth Moulton's presidential bid (Boston Globe)
Calling out Pelosi: Rep. Seth Moulton Calls Out Pelosi's Handling Of Spat With 'The Squad' (Huffington Post)