Steve Bullock (D) dropped out Dec. 2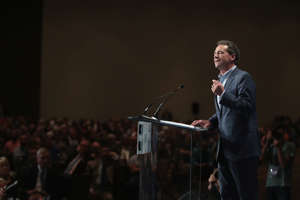 Editor's note: Steve Bullock officially dropped out of the presidential race on Dec. 2, 2019. This page is no longer being updated.
Stephen Clark Bullock is an American politician, attorney, and former professor who is the 24th Governor of Montana. A Democrat, he was first elected in 2012. Born in Missoula, Montana, Bullock graduated from Claremont McKenna College and Columbia Law School. 

He was an adjunct professor at the George Washington University Law School before opening his own law firm upon returning to Montana. In 2008, Bullock was elected Attorney General of Montana, and he served one term from 2009 to 2013.
Born: April 11, 1966 (age 53)
Current office: Governor of Montana - D (Since 2017) 
Spouse: Lisa Bullock
Official site: https://stevebullock.com/

ON KEY ISSUES:

Minimum wage:  Supports $15/hour federal minimum wage
DACA: Citizenship for Dreamers
Death penalty: Keep it for limited circumstances

Gun control: Favors buyback program for assault weapons, favors universal background checks

Health care: Oppose Medicare for All, but would expand coverage
(Positions compiled by Politico. Click here for a detailed look at Steve Bullock's views and where other 2020 candidates stand on the issues.)
COMPLETE PROFILE:

Who is Steve Bullock? An in-depth look at his biography, family, key positions and where he stands in the race. (Business Insider)
RELATED CONTENT:
Where Bullock stands on health care: Part of a series on candidates' positions on current issues from USA Today.
Who's giving?: Montana Gov. Steve Bullock (D), a 2020 presidential candidate, has urged the IRS not to adopt proposed rules that would reduce donor reporting requirements for certain tax-exempt groups. (The Hill)

Too much campaigning?: Steve Bullock is proposing a rule that federal elected officials must spend half of their terms actually governing. (Des Moines Register)
Issues and more: Gov. Steve Bullock on Democratic debates, talking to Obama and his alligator boots. (Politico)