Tim Ryan (D) dropped out Oct. 24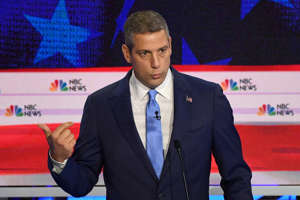 Editor's note: Tim Ryan officially dropped out of the presidential race on Oct. 24, 2019. This page is no longer being updated.
Timothy John Ryan is an American politician serving as the U.S. Representative for Ohio's 13th congressional district since 2003. 

The district, numbered as the 17th district from 2003 to 2013, takes in a large swath of northeast Ohio, from Youngstown to Akron.
Ryan is a member of the Democratic Party.
Born: July 16, 1973 (age 46)
Current office: Representative D-OH's 13th District (Since 2013)
Spouse: Andrea Zetts
Official site: https://timryanforamerica.com/
ON KEY ISSUES:
Minimum wage:  Supports $15/hour federal minimum wage
Electoral college: Supports eliminating the electoral college
DACA: Supports citizenship for Dreamers
Gun control:  Supports a voluntary buyback program for assault weapons
Health care:  Favors Medicare for All, but would accept Medicare for some
(Positions compiled by Politico. Click here for a detailed look at Tim Ryan's views and where other 2020 candidates stand on the issues.)
Microsoft News candidate guide: Learn about any or all of the other Democratic contenders
COMPLETE PROFILE:
Who is Tim Ryan? An in-depth look at his biography, family, key positions and where he stands in the race. (Business Insider)
RELATED CONTENT:
Healthy stubbornness: Despite not having a presence on the national debate stage thus far, Tim Ryan says "with good reason," he has no plans to drop out now or any time before the first contests early next year. (Washington Examiner)
Campaign pitch: Video: Ryan reaches out to those who feel "forgotten" (MSNBC)
Targeting Trump: Ryan savages the president on North Korea, Huawei (Politico)