Tulsi Gabbard (D) dropped out March 19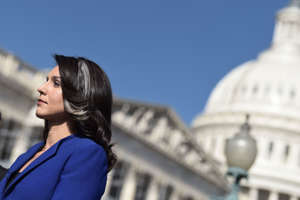 Editor's note: Tulsi Gabbard (D) dropped out of the race March 19, 2020. This page will no longer be updated.
Tulsi Gabbard is an American politician serving as the U.S. Representative for Hawaii's 2nd congressional district since 2013. She is a member of the Democratic Party. 

Following her election in 2012, she became the first Samoan American and the first Hindu member of the United States Congress.
Born: April 12, 1981 (age 38)
Current office: Representative D-HI 2nd District (Since 2013)
Spouse: Abraham Williams
Official site: https://www.tulsi2020.com/

ON KEY ISSUES:

Minimum wage: Supports $15/hour federal minimum wage
Electoral college: Supports eliminating the electoral college
Climate change: Supports the Green New Deal
Overseas deployments: Bring the troops home
Health care: Favors Medicare for All, but would accept Medicare for some
(Positions compiled by Politico. Click here for a detailed look at Tulsi Gabbard's views and where other 2020 candidates stand on the issues.)
RELATED CONTENT:
Bipartisan appeal: Gabbard, a 38-year-old Iraqi War veteran who backed Bernie Sanders in the last Democratic primary, fuses progressive policy stances with the kind of patriotic displays sometimes more associated with Republican campaigns. (CBS News)
Fighting Clinton: Gabbard tells Fox that Clinton's 'Russian asset' remark is 'taking my life away.' (The Hill)
Fit for the fight: A man challenged Tulsi Gabbard to a push-up contest. He lost. (CNN)

COMPLETE PROFILE:

Who is Tulsi Gabbard? An in-depth look at her biography, family, key positions and where she stands in the race. (Business Insider)