Wayne Messam (D) dropped out Nov. 20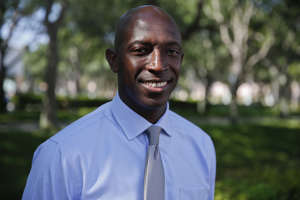 Editor's note: Wayne Messam dropped out of the presidential race on Nov. 20, 2019. This page is no longer being updated.
Wayne Martin Messam is an American businessman and politician serving as the mayor of Miramar, Florida, a position he has held since 2015. A member of the Democratic Party, he was first elected to the Miramar City Commission in 2011 before defeating incumbent mayor Lori Cohen Moseley in the 2015 election. 

Messam is also a general contractor and owner of a construction firm. On March 28, 2019, he announced his campaign to run for the Democratic nomination for President of the United States.
Born: June 7, 1974 (age 45)
Past offices: Mayor of Miramar (Since 2015)
Spouse: Angela Messam
Education: Florida State University
Official site: https://wayneforusa.com/
ON KEY ISSUES:
Minimum wage:  Supports raising the wage but not to a specific figure
Electoral college: Supports eliminating the Electoral College
DACA: Supports citizenship for Dreamers
Fossil fuels vs. renewable energy: Supports a ban on fracking 
Health care: Favors Medicare for All, but would accept Medicare for some
(Positions compiled by Politico. Click here for a detailed look a Wayne Messam's views and where other 2020 candidates stand on the issues.)
COMPLETE PROFILE: 

Who is Wayne Messam? An in-depth look at his biography, family, key positions and where he stands in the race (Business Insider) 
RELATED CONTENT:
$5 glitch: Miramar, Fla. Mayor Wayne Messam reported raising $5.00 for his longshot presidential bid over the last Federal Elections Commission filing quarter..
Missing out: Messam was one of four Democratic candidates who failed to qualify for the first round of debates. (Floriday Today)

But still weighing in:  In this video, Messam reacts to what he saw in the first Democratic debates. (NBC News)