Tight Race in Kansas Spotlights Power Struggle Inside the GOP

Bloomberg
8/8/2018
(Bloomberg) -- A closely fought Republican race for the Kansas gubernatorial nomination shines a light on the power struggle inside the GOP, with President Donald Trump at the center of it.
With all precincts reporting, Kansas Secretary of State Kris Kobach led incumbent Governor Jeff Colyer by just 191 votes out of more than 300,000 cast. The election on Tuesday remained too close to call Wednesday afternoon.
Trump gave an enthusiastic endorsement of Kobach, a polarizing figure known nationally as a fierce critic of illegal immigration, a backer of strict voter-identification laws and for making unsubstantiated claims about the prevalence of voter fraud. Colyer ran as a more pragmatic, results-oriented conservative and gained the backing of Bob Dole, the former Kansas senator and 1996 GOP presidential nominee, who said Colyer was the party's best choice to win in November.
The two candidates reflect competing factions within the party: an ascendant populist wing animated by culture wars, versus a pragmatic, pro-immigration and business-minded flank that has often clashed with Trump.
A day before the election, Trump tweeted Monday that Kobach "is a fantastic guy who loves his State and our Country - he will be a GREAT Governor and has my full & total Endorsement!" The Kansan served on Trump's short-lived voter fraud commission, which found no evidence for the president's claim that as many as 3 million votes were illegally cast in the 2016 presidential election.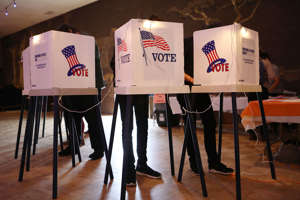 Slideshow by photo services
Colyer, formerly the lieutenant governor, assumed the governorship after predecessor Sam Brownback quit earlier this year to become Trump's envoy to promote religious freedom.
Some Republicans warned that a Kobach victory could cost the party the governorship in a state dominated by the GOP. Colyer campaign spokesman Kendall Marr said before the vote that the incumbent governor "is the only candidate who can defeat the Democrats."
Democratic Nominee
The winner will face Democratic nominee Laura Kelly, a state senator who defeated four men to get on the Nov. 6. general election ballot.
Democrats prefer to face Kobach, but one strategist said the party will seek to tie either candidate to Brownback's experiment in deeply cutting state taxes, which caused a fiscal hole that forced the GOP-led legislature to unwind it over the governor's objections.
Kelly is one of two women who won a gubernatorial nomination in Tuesday's election.
In Michigan, former state legislator Gretchen Whitmer trounced two men for the Democratic nomination for governor in a contest that also reflected a proxy war within the party.
She won by more than 20 points against progressive upstart Abdul El-Sayed, with wealthy entrepreneur Shri Thanedar further behind. The race carried echoes of the bitter 2016 battle between former Secretary of State Hillary Clinton and Senator Bernie Sanders of Vermont.
Whitmer was endorsed by Emily's List, a group that backs Democratic women who support abortion rights, and dominated the fundraising race. El-Sayed ran as a progressive who backs single-payer health insurance and won endorsements from Sanders and Democratic rising star Alexandria Ocasio-Cortez of New York, who ousted a longtime incumbent in a June primary for a U.S. House seat.
Whitmer will face state Attorney General Bill Schuette, who won a four-way GOP primary.
In the House primaries, Michigan Democrats nominated Rashida Tlaib for a deep-blue district in the Detroit area. Facing no Republican opposition, she ran on an unabashedly progressive platform and is poised to become the first Muslim woman elected to Congress.
Michigan voters also picked their candidates for two House races rated "toss up" by the nonpartisan Cook Political Report. In the 8th district, Democrat Elissa Slotkin will face Republican Representative Mike Bishop. In the 11th district, Democrat Haley Stevens is set to take on Republican Lena Epstein for a seat being vacated by the GOP's David Trott. Trump congratulated Epstein in a tweet Wednesday "on a job well done."
Missouri's U.S. Senate race was officially set when Democratic incumbent Claire McCaskill and Republican state Attorney General Josh Hawley won their parties' nominations, as expected. The state is a top GOP target in the party's quest to expand its narrow 51-49 majority.
In Washington state, Democrat Maria Cantwell won renomination for a fourth term; she's the favorite against Republican Susan Hutchison in the liberal state. The state also picked Democrats Lisa Brown and Carolyn Long to face House Republicans Cathy McMorris Rodgers in the 5th district and Jaime Herrera Beutler in the 3rd district, races that Cook rates as GOP-favored but competitive.
In all there were 49 women running in the four states holding primaries on Tuesday, 14 as Republicans and 35 as Democrats.
To contact the reporter on this story: Sahil Kapur in Washington at skapur39@bloomberg.net
To contact the editors responsible for this story: Joe Sobczyk at jsobczyk@bloomberg.net, Laurie Asséo
©2018 Bloomberg L.P.