Trump: Bob Mueller is 'looking for trouble'

Washington Examiner
8/20/2018
Video by GeoBeats
President Trump on Monday accused special counsel Robert Mueller of "ruining people's lives" by looking for evidence of Trump's collusion with Russia where there is none.
In a few tweets, Trump said Mueller spent more than 30 hours with White House counsel Don McGahn and got nothing, which shows Mueller is only interested in hindering the Trump administration.
"Anybody needed that much time when they know there is no Russian Collusion is just someone looking for trouble," Trump said over two tweets.
"They are enjoying ruining people's lives and REFUSE to look at the real corruption on the Democrat side - the lies, the firings, the deleted Emails and soooo much more!" Trump wrote. "Mueller's Angry Dems are looking to impact the election. They are a National Disgrace!"
Trump has continued to put pressure on Mueller to end his investigation by next month, and has argued that continuing it beyond that would be an attempt to influence the 2018 midterm elections.
Trump said over the weekend that he allowed McGahn to meet with Mueller's team in the interest of transparency, amid speculation that McGahn may have provided information to Mueller that might hurt Trump.
"They made up a phony crime called Collusion, and when there was no Collusion they say there was Obstruction (of a phony crime that never existed)," Trump added. "If you FIGHT BACK or say anything bad about the Rigged Witch Hunt, they scream Obstruction!"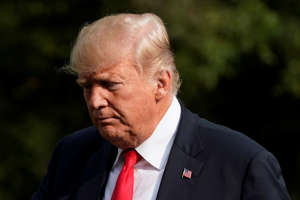 © REUTERS/Yuri Gripas U.S. President Donald Trump walks on the South Lawn of the White House upon his return from Bedminster, New Jersey, to Washington, U.S., August 19, 2018.