Trump: Congress can negotiate, but 'we're building the wall anyway'

Washington Examiner
2/12/2019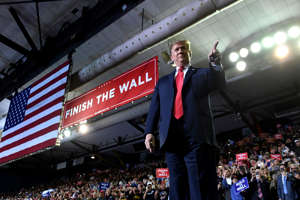 © AP President Donald Trump arrives to speak at a rally in El Paso, Texas, Monday, Feb. 11, 2019. (AP Photo/Susan Walsh) EL PASO, Texas — President Trump rallied supporters on the southern border Monday night, promising to build a border wall whether negotiators in Congress trying to strike a deal on the issue make progress or not.
"As I was walking up to this stage, I was told 'progress is being made with this committee.' Just so you know, we're building the wall anyway," said Trump, who spoke at the packed El Paso County Coliseum, located just one block north of the U.S.-Mexico border. He stood on a podium with two large red "Finish the Wall" signs hanging in the air to the left and right of him.
The campaign told the Washington Examiner it chose to hold the rally — Trump's first of the year — in this specific border town because a barrier that was put up there a few years ago has led to a decrease in crime.
"As the President continues his flight to secure the border, there's no better place to demonstrate that walls work in El Paso," Michael Glassner, Trump campaign chief operating officer said in an email to the Examiner before the event. "President Trump looks forward to visiting with the patriots of Texas who are on the front lines of the struggle against open border Democrats who allow drugs, crime, and sex trafficking all along our border every day."
The campaign found a receptive population in El Paso, where 62,000 people signed up to get tickets. The coliseum fits 7,500, and thousands of people hung around outside.
Sara Isabel Pantoja, a Hispanic resident of El Paso who attended the rally, said more wall in the region will further boost security.
"The wall they built helped crime," she said. "Oh yes, 100 percent build the wall," she said. "We are here because we want President Trump to finish what President Bush started a long time ago."
Another attendee, 24-year-old Mario Guerra, said he supported former President Barack Obama but thinks adding more wall in his hometown is a good thing.
"The border wall has somewhat been helping drop crime, said Guerra. "Granted, before the wall crime has been dropping anyway," he said. "I don't have anything against or for the wall but I see more good than bad because, what can we lose?"
Maria Griffith, a mother and El Paso resident, said she noticed a major uptick in the number of families trying to claim asylum at a border crossing in El Paso over the weekend. As a grandmother, she said she sympathizes with the families trying to bring their children in but that the dangerous treks and illegal entries that many force their children to go through need to be stopped, and a wall would do that.
"If you build that wall, they're not even gonna try. Those little kids are not gonna be at risk," said Griffith.
"I spoke to people who've lived here a very long time and they said when that wall went up, it was a very different ballgame," said Trump during the rally.
"Just a few thousand feet from where we stand right now — it's one of the most dangerous places in the world, Juarez. Thanks to a powerful border wall … [El Paso is] one of America's most safest cities now.