Trump is indicted in N.Y. Here's what it means and what happens next.

The Washington Post
3/30/2023
Former president Donald Trump has been indicted by a Manhattan grand jury, becoming the first person in U.S. history to serve as commander in chief and then be charged with a crime.
The indictment remains under seal, so the specific charge or charges have not been made public. Here is what we know so far about the next steps in the criminal proceedings:
What is an indictment?
When someone is indicted by a grand jury, it means they are charged with one or more crimes. "An indictment is just a fancy way of saying 'the charging document,'" said Anna G. Cominsky, a professor at New York Law School. "It is a piece of paper that contains the charges."
The grand jury, which in New York is composed of 23 members of the public, hears evidence from witnesses presented by prosecutors over a period of days, weeks or months. At the end of that process, prosecutors decide whether to ask the jurors to vote on an indictment. A majority must vote to indict the person.
The grand jury process is secret, and the indictment is generally not made public until it is filed in court or — in some cases — until the defendant makes their first court appearance.
What we know about the Donald Trump-Stormy Daniels payment case
What is the case about?
The case is believed to involve a payment made before the 2016 presidential election to Stormy Daniels, an adult-film actress, to keep her from publicly discussing an affair she said she had with Trump years earlier.
Read more about the case here.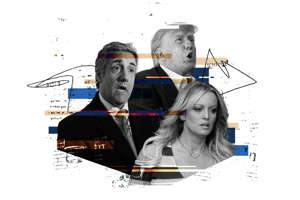 Now that he is charged, will Trump be publicly arrested?
It depends. Once he is indicted, he could be placed in handcuffs and arrested. But prosecutors will most likely reach out to the former president's lawyers and ask whether he would voluntarily turn himself in. That way, he could avoid being taken into custody in public view.
Trump posted on social media on March 18 that he would be arrested, but Cominsky said it seems unlikely that the former president would be publicly arrested since his attorneys appear to be in communication with prosecutors and could arrange for him to surrender.
A spokesperson for the Manhattan District Attorney said Thursday evening that the office had contacted Trump's attorney to coordinate his surrender for arraignment "on an indictment." A Trump adviser said that the former president is expected to surrender on Tuesday, April 4.
Should Trump refuse to surrender, prosecutors would need to go to officials in Florida, where Trump resides, and ask for permission to extradite him to New York.
And what happens once he is arrested?
Once a suspect who has been indicted is in police custody, police or other law enforcement officials process them behind closed doors, taking mug shots and fingerprints.
The process is identical whether the person has been arrested or has agreed — or negotiated through lawyers — to turn themselves in.
The first court proceeding after an arrest or surrender would be an arraignment hearing in a Manhattan courtroom. At the arraignment, a judge would determine whether Trump would need to pay bail or adhere to certain restrictions pending a trial — or whether he could be released with no bail or restrictions, which is known as being released on personal recognizance.
The Secret Service is preparing for the possibility of Trump's arraignment early next week but does not have a firm date on when that will happen, according to a law enforcement official familiar with the plans who spoke on the condition of anonymity to discuss them. The special agent in charge of Trump's security detail, Sean Curran, or Curran's deputy, is likely to personally accompany Trump when he is processed on those charges.
Who is the prosecutor who brought charges against Trump?
New York County District Attorney Alvin Bragg, a Democrat, was elected as the Manhattan district attorney in November 2021. He is a former federal prosecutor in the New York attorney general's office.
Bragg inherited the Trump investigation from his predecessor, Cyrus Vance Jr. Two senior prosecutors quit his office last year, apparently in frustration that Bragg was not inclined to pursue an indictment of Trump over how he valued properties in his real estate business. Bragg has declined to discuss the investigation, saying only that, "We will continue to apply the law evenly and fairly."
Read more about Bragg here.
Where would Trump be processed once he turns himself in or is arrested?
Defendants are typically processed in police precincts. But it is not uncommon for them to be processed at a district attorney's office if they surrender after a grand jury indictment.
Could Trump go to jail?
This is the question a lot of people are asking. The answer is, it depends — not only on what he is charged with, of course, but also of what, if anything, he is ultimately convicted.
Before news of the indictment broke, Bragg was believed to be considering charges of falsifying business records in the commission of another crime, possibly a campaign-finance violation. That would be a low-level felony, according to New York state law, punishable by up to four years in prison.
But charges can be downgraded, sentences vary case by case, and, in general, it is unusual for a person with no criminal record to be sentenced to extensive jail time for a nonviolent, low-level felony violation.
So even if Trump is convicted of a felony, it does not necessarily mean he will spend time in jail.
Can Trump still run for president in 2024?
While it has never been attempted by a candidate from a major party before, Trump is allowed to run for president while under indictment — or even if he is convicted of a crime.
The practical impact of an criminal case on his candidacy — whether it would help or hurt his odds of landing in the White House again — depends on whom you ask. Some of his advisers, according to a recent Washington Post article, said this is favorable terrain for Trump: back in the center of attention as the dominant figure in his party. But advisers also acknowledged the pitfalls of a indictment and said the campaign has not worked out the logistics of simultaneously mounting a presidential run and facing a criminal trial.
What has been the reaction to the indictment?
Many Republican officials — including some rivals for the Republican nomination — leaped to Trump's defense, denouncing what they called the weaponization of the criminal justice system.
Ronna McDaniel, the chairwoman of the Republican Party, called the indictment "a blatant abuse of power from a DA focused on political vengeance instead of keeping people safe."
Top Democrats said that the grand jury was following the facts and that Trump should respect the legal system.
"The Grand Jury has acted upon the facts and the law. No one is above the law, and everyone has the right to a trial to prove innocence," Rep. Nancy Pelosi (D-CA), the longtime speaker of the House, wrote on Twitter. ""Hopefully, the former President will peacefully respect the system, which grants him that right."
Devlin Barrett, Josh Dawsey and Shayna Jacobs contributed to this report.