Trump praises 'leadership' of Puerto Rico, Virgin Islands govs after slamming mayor

FOX News
10/1/2017
The White House says President Trump spoke early Sunday to Puerto Rico Gov. Ricardo Rosselló to reaffirm his administration's commitment to providing an "unprecedented federal response" to widespread hurricane damage and thank Rossello for his leadership.
The call to Rossello, a Republican, and another to Independent Gov. Kenneth Mapp of the U.S. Virgin Islands, also impacted by hurricanes Irma and Maria, came after San Juan, Puerto Rico Mayor Yulin Cruz, a Democrat, criticized the administration's response and Trump tweeted that her lack of leadership had caused problems in the recovery effort.
Trump on Saturday seemed furious with Cruz's criticism, tweeting nearly a dozen times on the matter, with the last several lauding Rosselló and Mapp's efforts.
The White House summary -- known as a "readout" -- of the Sunday phone calls twice included the word "leadership."
"President Trump thanked the governors for their leadership in responding to and recovering from these catastrophic events," read one line.
"President Trump pledged his administration's continued commitment to provide an unprecedented federal response in helping the people of Puerto Rico and the U.S. Virgin Islands. Both governors were very appreciative and complimentary of the administration's effort, including the president's leadership," the summary also stated.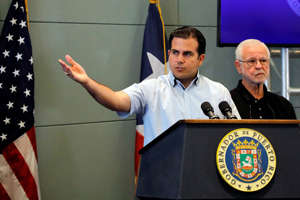 The row between Trump and Cruz started Friday when Cruz criticized the president's effort to get supplies, electricity and other relief to the U.S. island and suggest residents were "dying" as a result.
"Such poor leadership ability by the Mayor of San Juan, and others in Puerto Rico, who are not able to get their workers to help," Trump responded Saturday in one of the tweets. "They want everything to be done for them when it should be a community effort. 10,000 Federal workers now on Island doing a fantastic job."
He also tweeted: "Results of recovery efforts will speak much louder than complaints by San Juan Mayor. Doing everything we can to help great people of PR!"
Cruz, in response, said later Saturday morning that she'll "continue to do whatever I have to do" to get federal hurricane assistance.
"I will continue to do whatever I have to do, say whatever I have to say, compliment the people I need to compliment and call out the people I need to call out," she told MSNBC. "I am not going to be distracted by small comments, by politics, by petty issues. This is one goal and it's to save lives."
Trump later tweeted: "The Governor of Puerto Rico, Ricardo Rossello, is a great guy and leader who is really working hard. Thank you Ricky!"
He also tweeted: "Just spoke to Governor Kenneth Mapp of the U.S. Virgin Islands who stated that #FEMA and Military are doing a GREAT job! Thank you Governor!"