Trump says Manafort pardon 'not off the table' - interview

Reuters
11/28/2018
Video by GeoBeats
WASHINGTON, Nov 28 (Reuters) - U.S. President Donald Trump said on Wednesday he has not ruled out granting a pardon to his former campaign chairman, Paul Manafort, who has pleaded guilty to a range of federal charges from money laundering to unregistered lobbying.
"It was never discussed, but I wouldn't take it off the table. Why would I take it off the table?" the president told the New York Post during an Oval Office interview.
Prosecutors for the special counsel investigating Russian meddling in the 2016 U.S. presidential election said in a court filing on Monday that Manafort had lied to them, breaching a plea agreement.
"Manafort committed federal crimes by lying to the Federal Bureau of Investigation and the Special Counsel's Office on a variety of subject matters," Special Counsel Robert Mueller said in the filing. The filing did not give details but promised more as part of a presentencing report.
Manafort said in the same filing that he disagreed with the special counsel's assertion that he had lied, but both sides agreed the court should move ahead and sentence him for his crimes.
Without a pardon, the 69-year-old Manafort could spend the rest of his life in prison, experts said.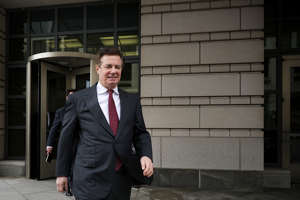 © Reuters WASHINGTON, DC - APRIL 04: Former Trump Campaign manager Paul Manafort leaves the E. Barrett Prettyman United States Courthouse following a hearing on April 4, 2018 in Washington, DC. Manafort and his legal team attempted to convince a federal judge on Wednesday to throw out criminal charges filed against him by Special Counsel Robert Mueller, who is investigating potential collusion between President Donald Trump's campaign and Russia. (Photo by Chip Somodevilla/Getty Images) The breakdown in the plea deal means that Manafort will almost certainly be hit with a harsher sentence - both for the crimes he pleaded guilty to in Washington and for his conviction in August in a separate case in Virginia on bank and tax fraud.
Manafort was likely facing about 10 years in prison for the eight guilty counts in the Virginia case alone, sentencing experts have said.
But the development also raised speculation that Manafort may be seeking to curry favor with Trump or protecting other associates who worked on the campaign.
Trump has been vocal in his support for Manafort, lauding him as a "very good person" during the Virginia trial.
The president sharply criticized the Mueller probe in his interview with the New York Post, charging that Manafort, his former political adviser Roger Stone and Stone's associate Jerome Corsi were all asked to lie by the special counsel's office. Trump said the three were "actually very brave."
(Reporting by Doina Chiacu;)