Trump touts US economy, military at White House Easter Egg Roll

The Hill
4/2/2018
Video by Reuters
President Trump during remarks at the 140th annual White House Easter Egg Roll on Monday called 2018 a "special year," proclaiming that the country "is doing great."

"You look at the economy, you look at what's happening," Trump said, as he stood alongside first lady Melania Trump and an Easter Bunny character on the Truman Balcony.
"Nothing's ever easy, but we have never had an economy like we have right now. But we're going to make it bigger, better, stronger," he said.
The comments echoed Trump's message from the same event last year, when he told the crowds gathered at the annual tradition that the country would be "stronger and bigger and better as a nation than ever before."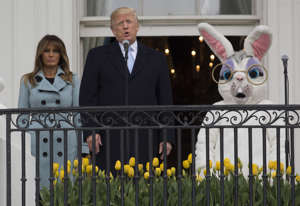 Gallery by photo services
Trump also praised U.S. troops in his remarks at the event, which typically draws thousands of schoolchildren and visitors to the White House's South Lawn.
"Our military ... will soon be at a level that it's never been before," he said.
"The funding of our military was so important," Trump, 71, continued.
He also lauded his wife for her work putting together the springtime gathering.
Melania Trump, he said, "has done an incredible job. She worked so hard on this event."
Unlike last year, the first lady didn't take to the mic as she stood beside her husband.
President Trump thanked the White House Historical Association and "all of the people who work so hard with Melania, everybody, to keep this incredible house, or building, or whatever you want to call it because there really is no name for it."
"It is special, and we keep it in tip-top shape," he said. "We call it sometimes 'tippy-top' shape. And it's a great, great place."
Despite the cold and overcast clouds, the South Lawn was filled with excited children celebrating the 140th annual event. Attendants in hot pink hats and aprons ushered the children around, while the Easter Bunny milled with the parents.
Trump blew the starting whistle for the egg roll, before joining some of the children who were at picnic tables. The president and first lady helped children who were coloring and praised their drawings.
The president's son, Donald Trump Jr., and his wife Vanessa Trump, also joined the festivities with their children.
Before leaving the event, the first lady stopped under a blooming cherry tree to read to some of the children.