Trump's Acting Attorney General Matthew Whitaker, who has criticized the Mueller probe, will now oversee it

CNBC
11/7/2018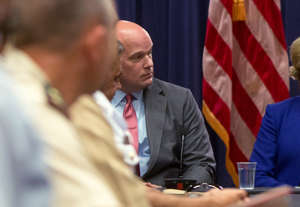 President Donald Trump's acting attorney general, Matthew Whitaker, will oversee special counsel Robert Mueller's probe of Russian meddling in the 2016 U.S. election.

"The Acting Attorney General is in charge of all matters under the purview of the Department of Justice," a spokesperson for the department said Wednesday when asked if Whitaker would oversee Mueller's investigation.
Trump announced in a pair of tweets minutes earlier on Wednesday that Attorney General Jeff Sessions would be replaced by Whitaker, who was Sessions' chief of staff at the Justice Department. Sessions had resigned at Trump's "request," according to his resignation letter.
It was not immediately clear how the staffing change will impact Deputy Attorney General Rod Rosenstein, who is currently overseeing the Mueller probe.
Whitaker argued in an August 2017 op-ed for CNN that Mueller's investigation is "dangerously close to crossing" the so-called red line not to look into the Trump family's finances.
Less than a month earlier, Whitaker had defended Trump's son, Donald Trump Jr., for accepting a meeting at Trump Tower in June 2016 with Russian officials who had promised damaging information about Hillary Clinton during the presidential campaign.
"You would always take that meeting," Whitaker said on CNN.
Whitaker, 49, is a former U.S. attorney in Iowa who ran for political office as a Republican. The National Association of Former United States Attorneys announced in October 2017 that Whitaker had been appointed as Sessions' chief of staff.
"It does not take a lawyer or even a former federal prosecutor like myself to conclude that investigating Donald Trump's finances or his family's finances falls completely outside of the realm of his 2016 campaign and allegations that the campaign coordinated with the Russian government or anyone else," Whitaker wrote in the piece.
"That goes beyond the scope of the appointment of the special counsel."
Sessions had been a frequent target of Trump's ire since he recused himself from the investigation into Russian interference in the 2016 election and whether the Trump campaign colluded with the Kremlin.
Trump has also criticized Rosenstein. "I am being investigated for firing the FBI Director by the man who told me to fire the FBI Director!" Trump said in a June 2017 tweet, shortly after the special counsel was appointed.