White House: Federal climate change report 'not based on facts'

Washington Examiner
11/27/2018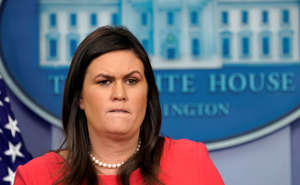 © REUTERS/Kevin Lamarque White House spokeswoman Sarah Sanders speaks during a press briefing at the White House in Washington, U.S., November 27, 2018. REUTERS/Kevin Lamarque White House press secretary Sarah Sanders denounced a new climate-change report as "not data driven" and "not based on facts," sharpening the Trump administration's repudiation of the document crafted by 13 federal agencies.
Sanders denounced the National Climate Assessment during a Tuesday press briefing, defending President Trump's publicly expressed doubt about its warning of potentially severe ocean-level rises and associated economic costs.
"You have to look at the fact that this report is based on the most extreme modeled scenario, which contradicts long-established trends," Sanders said. "Modeling the climate is an extremely complicated science that is never exact."
Sanders added: "We think this is the most extreme version, and it's not based on facts. It's not data driven. We'd like to see something that is more data driven. It's based on modeling."
However, Sanders said Trump is committed to ensuring the country has "the safest, cleanest air and water."
The climate assessment, released Friday, was spearheaded by the National Oceanic and Atmospheric Administration, with assistance from other agencies, including NASA.
The report found that wildfires have worsened in severity due to climate change and that more than 13 million U.S. residents may need to evacuate due to rising ocean levels in 80 years.
Trump told reporters on the South Lawn of the White House Monday that, "I've read some of it, and it's fine," but said he did not accept forecasts of a devastating economic impact.
"I don't believe it," Trump said.