AMD Soars as Meta Picks Its Data Center Chips for Facebook

Investing.com
11/8/2021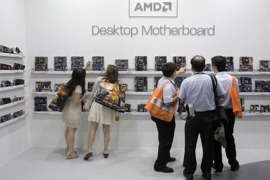 By Dhirendra Tripathi
Investing.com – Advanced Micro Devices stock (NASDAQ:AMD) climbed more than 7% Monday on landing a contract with Facebook-parent Meta (NASDAQ:FB) that would allow the former to put its chips in Facebook's data centers.
The chipmaker held its Accelerated Data Center Premiere event today, when it made the announcement.
AMD has established itself as a serious contender in the market for data center chips, having earlier struck deals with Alphabet's (NASDAQ:GOOGL) Google Cloud, Amazon Web Services (NASDAQ:AMZN) and Microsoft's Azure (NASDAQ:MSFT).
The company, having proven itself as a worthy competition to Intel (NASDAQ:INTC), is now taking on larger rivals such as Nvidia (NASDAQ:NVDA) in supercomputing markets.
The company announced a chip called the MI200 which is an 'accelerator' designed to speed up certain tasks like machine learning and AI.
Oak Ridge National Laboratory (NYSE:LH) in Tennessee will use the new chip in its 'Frontier' supercomputing system, AMD said.
The new chip is designed to take on Nvidia's A100 chip, which, along with other chips designed to speed up AI, has helped make it the most valuable U.S.-listed semiconductor company, with a market cap of $765.3 billion, more than four times AMD's $175.3 billion.