Best Clothes Dryers of 2023
Consumer Reports
3/2/2023
These electric, gas, and compact models from Consumer Reports' tests get your laundry nice and dry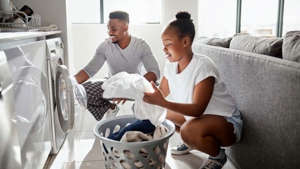 A great clothes dryer can make a tedious chore a lot easier.
By Keith Flamer
Updated by Daniel Bortz
Doing laundry can be a tedious task. The best clothes dryers we've tested can ease the chore, from drying better to handling larger loads. And our testing shows that some of the best dryers are among the least expensive.
CR's clothes dryer ratings of more than 200 models are based on performance, reliability, noise, and convenience (for instance, whether the door is high enough to clear a laundry basket).
LG dryers dominate our ratings. The brand performs best in CR's lab tests and reliability ratings, claiming the top 14 spots in both electric and gas dryers. 
Models from other brands perform well, too, such as Miele and Samsung in the compact dryer sector. Overall, good dryers are available in a wide price range, from about $700 to nearly $2,000. 
Dryers are a value buy, if you choose a reliable one. Some offer a steam option that will dewrinkle your clothes by spraying a little water into the drum while heating and tumbling. But, by far, the most important dryer features are capacity and a moisture sensor, which detects a load's dryness and automatically turns off the machine to prevent overdrying, saving energy costs.
While there's no shortage of dryers to choose from today, there are steps you can take to hone your search. "Dryers can vary in external size by a few inches or more, and many people have space or access limitations, like doorways," says Rich Handel, the CR test engineer who oversees our laundry lab. "Narrow your choices down to a dryer that has a moisture sensor, then look at the space you have and the capacity you need."
Over the course of cleaning a load of laundry, a dryer consumes much more energy than a washer, due to the heat required to dry clothes. So while drying performance is essential, energy efficiency is also a worthy consideration. An Energy Star certified dryer can save as much as 20 percent on your energy costs.
In our labs, we dry laundry loads of different sizes and fabric mixes (like cotton/polyester blends and synthetic delicates) to determine a model's drying performance. A dryer's controls and ergonomics, such as ease of loading and unloading, determine its convenience score. The sound quality and volume of an 8-pound laundry load define its noise level, as judged by an expert panel.
The majority of consumers recently surveyed by CR said they prefer electric dryers over gas dryers. Nonetheless, our decades of research and testing show that gas dryers compare favorably with their electric counterparts. You'll find both types of dryers, as well as compact dryers, in our comprehensive ratings. 
If your dryer is on its last tumble, the models below are among the top electric, gas, and compact dryers from our tests. For helpful information as you shop, see our dryer buying guide, which also lists the brands we test. CR digital members can check out our picks of the best matching washer/dryer sets and the best washing machines. 
Best Electric Dryers From CR's Tests
Best Gas Dryers From CR's Tests
Best Compact Dryers From CR's Tests
Consumer Reports is an independent, nonprofit organization that works side by side with consumers to create a fairer, safer, and healthier world. CR does not endorse products or services, and does not accept advertising. Copyright © 2023, Consumer Reports, Inc.