Try This Hack and Get Months of Cheap Meal Delivery
There may be no such thing as a free lunch but there are some seriously cheap lunches (and dinners) up for grabs if you know where to look. If you've been scanning the web for ways to save money on mealtime, you can sample several of our favorite meal kits including HelloFresh Blue Apron and EveryPlate for as much as 73% off the normal prices. With a little organization, this semisecret hack will net you months, even up to a year of meal kits and prepared meal delivery for very little money, and far less than it would cost to buy the groceries yourself.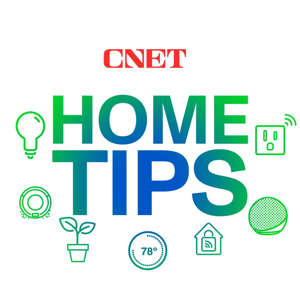 Here's how to do it (hint: it involves taking advantage of promo deals and canceling at the right time), and a snapshot of how much you'll save. 
For more money-saving tips, see how much you'll pocket buying store-brand groceries, how much you can save shopping at Trader Joe's or Costco (and if the Costco Executive membership is worth it), and how to tell if a cheap wine is actually good.
The Best Meal Delivery Deals Right Now: See at Cnet
Here's how to get cheap meal kits for months
Nearly every meal kit I've tested (here's how CNET tests meal kits) allows you to try several weeks of meals for a super cheap promotional price, typically about 50% off the normal price. These hugely discounted sign-up offers are often as low as $5 or $7 for a full recipe that will feed two, four or even six people. That's about $2 to $5 per serving and about as cheap a meal as you're going to find during these dog days of inflation.
These meal delivery deals will sometimes be spread out over three, four or even five deliveries. For example, Blue Apron's offer will save you $130 but you'll have to order five weeks' worth of meals. That still amounts to 13 "free" dinners, though, and you'll get to try this easy breezy meal kit service in the process. Plus, it'll give you a free $100 gift card to get you more meals. 
Gobble's deal is shorter but just as tempting. That service lets you try your first six servings (three meal kits) for just $36.
And then there's the mother of all cheap meal delivery services, EveryPlate. This budget-friendly brand will send your first few boxes for a laughably low price per meal. It varies by week but right now, your first box will come in at under $2 per serving.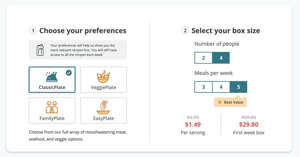 I can attest firsthand that meal kits make meal-making a breeze since you won't have to labor over what to make, shop for ingredients or do loads of prep since many of them do the measuring and a good deal of the prep work for you.
Even without these deals, we crunched the numbers and using a convenient meal kit is just a few dollars more expensive than shopping for the same groceries. Factor in one of the offers and it'll be significantly cheaper than buying the ingredients. Plus, you won't have to take annoying trips to the store for months -- or even as long a year if you try them all.
What are the best meal kit deals?
Don't worry, I've made this easy and rounded up the best meal delivery deals here so you can make a plan to try them all for cheap. Some promotions are likely to change from month to month, so grab the ones that look best to you now and I'll be sure to update the post so you can find the best deals when it's time to try a new service.
Don't forget to cancel your meal kit service after promo ends
The big catch is that if you don't cancel after the initial promotion ends, the service will almost certainly keep sending you boxes of meals but at the full price. Some will let you cancel right after you place your order while others will make you wait until the promo boxes have all been delivered. In cases where they make you wait, I'd suggest setting a reminder to cancel at the earliest possible time. 
The worst-case scenario is you'll get an extra week's delivery of meals at a higher price. Certainly not the end of the world but if you're trying to try them all for those rock-bottom offers, you'll have to stay on your game. 
Meal kits don't have long-term commitments
Most of these deeply discounted sign-up offers won't rope you into any long-term contracts. In fact, they make it fairly easy to pause or cancel your service, unlike those fury-inducing gyms. But for safety's sake, read the fine print for each service and for each individual promotion before you enter your credit card information. 
Prepared meal services also have promo deals
If you don't have an interest in cooking, many of the top prepared meal delivery services have sign-up offers too. I've found that the discount, by percentage, isn't usually as good as with meal kits but there are still some cheap meals to be had. Much like meal kits, you'll be able to cancel your service after you've taken advantage of the deal -- or keep 'em coming if you like what you get. 
Even online butchers such as Butcherbox and grocery delivery services such as Thrive Market and Hungryroot have some hefty new customer deals. I say try them all and let everyone else pay full price.
More money-saving tips for the kitchen