How to Replace Cable TV for Only $25 a Month

Consumer Reports
9/8/2022
A Disney+ bundle, Paramount+, and Peacock offer a wide range of broadcast channels, cable networks, movies, and original shows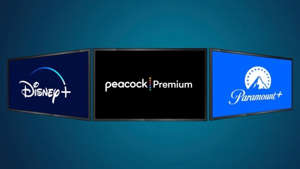 By James K. Willcox
Many people have been looking for ways to trim their monthly expenses, and ditching costly cable or satellite TV services is a great place to start. Those services can easily cost more than $100 a month.
Unfortunately, streaming video services can be a significant expense, too. Almost a quarter of all American households now subscribe to nine or more services, in addition to any cable plan they have, according to market research firm Parks Associates. Half subscribe to four or more streaming services.
Many of the best-known services, such as Netflix and Hulu, have been raising their prices. And the same goes for services designed to replicate traditional TV packages—DirecTV Stream, FuboTV, Hulu + Live TV, and YouTube TV. Most of them now cost $65 per month or more.
What if you're prepared to pay only half that? Can you still find a compelling assortment of content complete with local broadcasts?
Believe it or not, the answer is yes. We managed to assemble a decent TV plan on an ultra-tight budget of just $25 per month.
The package we created includes Disney+, NBCUniversal's Peacock, and Paramount+ (the new iteration of CBS All Access). It won't fit every need, and it doesn't allow you to watch every popular show out there. Notably, we didn't include Netflix or Amazon Prime, which many people already pay for alongside a cable or satellite package. You might add one of those services or HBO Max, or make some swaps, and still end up with a satisfying monthly budget.
Here's another money-saving tip: If you live in a metropolitan area, you might be able to get even more programming, for free, with an inexpensive indoor TV antenna.
Setting those considerations aside, here's what you get with our three streaming picks, for a total bill of $25 per month or less.
Paramount+
Let's start with Paramount+, which has replaced CBS All Access as the company's streaming platform, because it seems like a no-brainer for sports fans. It has a deal to show all the local-market NFL games on CBS' schedule through 2033, plus NCAA basketball and PGA golf, including the Masters and the PGA Championship.
Paramount+, which replaces CBS All Access, is the streaming home to Paramount's programs, including CBS and Viacom shows, plus original content.
Source: CBS
Paramount+ has two subscription options. If you can live with a few advertisements, the Essentials plan costs only $5 per month ($50 for a year if you pay up front). Or you can watch ad-free on the Premium plan for $10 a month ($100 if you pay by the year). In addition to the advertisements, the other big difference is that you don't get your live local CBS station (except for NFL games) with the Essential plan. The pricier tier also lets you watch shows in 4K HDR (including Dolby Vision), and get mobile downloads.
Both services give you access to all shows from CBS, more than 3,500 episodes from BET, Comedy Central, MTV, Nickelodeon, Paramount, the Smithsonian Channel, and other jointly owned properties. Paramount+ also has a growing number of original shows, such as "The Offer," based on the making of "The Godfather"; "1883," a prequel series to "Yellowstone"; several series based on "Star Trek"; "The Mayor of Kingstown"; and the limited series "The Stand," based on the best-selling Steven King novel.
Current movies include "The Lost City" and "Honor Society." New blockbuster movies that will hit the service after they appear in theaters include "Mission: Impossible 7" and "Top Gun: Maverick." For kids, there are two "SpongeBob Squarepants" properties: "Kamp Koral," an original children's series, and "The SpongeBob Movie: Sponge on the Run."
Paramount+ is available on Amazon Fire TV, Apple TV, Chromecast, and Roku streaming players; Android and Apple iOS smartphones and tablets; LG, Samsung, and Vizio smart TVs; and PlayStation and Xbox game consoles.
Total cost: With the Essentials tier of Paramount+ onboard, we've now spent $5 of our $25 budget, leaving $20.
Disney+ Bundle
Given the assortment of high-powered entertainment brands under the Disney umbrella, it should be no surprise that we're adding Disney+ next. At $8 per month—or $80 if you pay for a year—Disney+ has already nabbed 45 million-plus subscribers in the U.S. and Canada. Unfortunately, Disney recently announced that it's raising prices for both the Disney+ stand-alone service and the Disney+ bundle. But they're still good deals for budget-conscious households.
With content from Disney, Lucasfilm, Marvel, NatGeo, and Pixar, Disney+ is a compelling option. We like the Disney+ bundle, which includes Hulu and ESPN+.
Source: Disney
Here's why Disney+ is so compelling: The company owns Lucasfilm (the "Star Wars" franchise), Marvel Studios ("The Avengers," "Black Panther"), and Pixar ("Toy Story," "Up"). The recent acquisition of 20th Century Fox gives it 20th Century Studios ("The Simpsons") and the lion's share of National Geographic content, too.
Disney+'s updated library of content includes "Beatles Get Back" from Peter Jackson, Disney's "Encanto," "She Hulk Attorney at Law," from the Marvel universe, and the "Star Wars" series "Obi-Wan Kenobi: A Jedi's Return." New original series include "Hawkeye," from Marvel, plus a third season of the popular series "The Mandalorian," also set in the "Star Wars" universe. Coming shows include several new "Star Wars" adventures, including "Star Wars: Andor," and "Agatha: Coven of Chaos," a Marvel series starring Katheryn Hahn.
While Disney+ is pretty compelling on its own, we decided to splurge on the Disney+ bundle plan, adding Hulu and ESPN+ to the service for a total price of $14 per month.
Hulu—now wholly owned by Disney—fills a pretty big hole with content from popular broadcast and cable channels. Some shows can be watched in real time, but most are available either one day or one week later. That's a good way to get programming from ABC, AMC, Bravo, Big Ten Network, CBS, E, ESPN, Fox, Fox Sports, FX, NBC, NFL Network, Oxygen, PBS, Syfy, and USA Network.
The specific content will vary, as it does on all streaming services. For instance, earlier this year NBCUniversal said it would stop providing current-season shows, such as "Saturday Night Live" and "Chicago Fire," to Hulu. These and other shows will move over to NBC's Peacock streaming service. (Don't worry, that's also on our list, below.)
The Disney+ bundle also gives you a nice assortment of classic TV shows ("30 Rock" and "Modern Family"), Hulu originals ("The Handmaid's Tale," "Dopesick," about the opioid crisis, and "The Patient," with Domhnall Gleeson and Steve Carell). Other Hulu originals include "Nine Perfect Strangers," starring Nicole Kidman, and "Only Murders in the Building," starring Selena Gomez, Steve Martin, and Martin Short. You also get exclusive access to films such as "Prey" and "Not Okay."
ESPN+ adds sports to the mix, including everything from major league baseball to college football and basketball, hockey, soccer, and UFC fights. You also get access to documentaries such as the "30 for 30" series.
However, here's the bad news on pricing: In December, Disney is hiking the price of the ad-free Disney+ stand-alone service from $8 to $11 a month. But it will also offer an ad-supported plan, called Disney+ Basic, for $8 a month.
People who want the Disney+ bundle will get several options. The plan that provides ad-free Disney+, plus ad-supported Hulu and ESPN+, goes up from $14 to $15 a month. A premium version of the bundle—ad-free Disney+, ad-free Hulu, and ESPN+—will cost $20 a month. There's also a new bundle that includes Disney+ Basic and Hulu with ads (but not ESPN+) for $10 a month.
Disney+ is available on LG and Samsung smart TVs, plus Android TVs and Roku TVs. You can also access the service from most streaming players, game consoles, Android and iOS smartphones, and web browsers.
Total cost: With Paramount+ and today's $14 pricing for the Disney+ bundle, we've now spent $19 of our $25 monthly budget. That doesn't leave much money for a third service, but read on.
Ad-Supported Peacock Premium
Peacock, which launched nationally in 2020, is a great way to round out our $25-per-month package with NBC and Bravo shows, plus Universal movies.
Unlike the services above, Peacock offers a free ad-supported tier in addition to two paid tiers ($5 per month with ads, $10 without) that feature more robust content options.
The Peacock streaming service provides NBC and Bravo shows, Universal movies, sports, and original programming.
Source: NBCUniversal
The free tier gives you access to about two-thirds of Peacock's 20,000-title library of movies, classic shows, news, sports, kids programming, and Spanish-language offerings. NBC's current-season broadcasts are also available one week after they air.
But we think it's worth spending $5 per month for the ad-supported Peacock Premium paid tier. (Right now, the company is running a promotion that lets you get Peacock Premium for just $2 a month for a year.) To start, you get exclusive next-day access to current NBC and Bravo shows, now that a deal with Hulu is expiring. Better yet, you get the full complement of programming from NBCUniversal's properties: Bravo, Syfy, Telemundo, USA Network, and Universal Studios. More recently, Peacock reached a deal with Universal that will see that company's new movies stream exclusively on Peacock after leaving theaters. The deal starts this year and includes movies such as "Jurassic World: Dominion" and "Minions: The Rise of Gru."
Peacock is also licensing shows from ABC, A&E, and Fox. And it has a deal with ViacomCBS to add content from CBS, Paramount, Showtime, and Viacom, plus movies from Blumhouse, DreamWorks, Focus Features, Illumination, Universal Pictures, and Warner Bros.
Peacock's original programming is a third great reason to subscribe to a Premium plan; free-tier subscribers get only a sample program or two. Original series include "The Resort," "Love Island," and "Yellowstone." New movies include "Jurassic World: Dominion," the religious comedy "Honk for Jesus: Save Your Soul," and "They/Them," a horror thriller about campers at an LGBTQ+ conversion camp.
For sports fans, Peacock will stream Premier League soccer games, golf tournaments, and WWE Network matches. It also recently signed an extension with the NFL to show Sunday night NFL games that air on NBC through 2033.
You can access Peacock through Comcast's own Xfinity X1 cable and Flex streaming platforms, as well as on Amazon Fire TV boxes and TVs; Apple devices (Apple TV and Apple TV 4K, iPhone, iPad, and iPod Touch); Google Android TVs; Roku players and TVs; phones, tablets, and Chromecast; and through LG and Vizio smart TVs. The service is also available on Xbox One and Sony PS4 game consoles.
Total cost: By adding Peacock to our plan at $5 per month, we've raised the total to $24, leaving you with an extra buck for popcorn.
So How Did We Do?
In the end, we proved it's possible to get a fully featured TV plan for less than $25 per month. In fact, if Peacock Free meets your needs, you can dip below $20 per month. On the other hand, if you need to get CBS broadcasts, we recommend stepping up to the $10-a-month Paramount+ plan, which would bring the total to $30 a month.
Also, you may end up paying a bit more if you opt for one of the ad-free Disney+ bundles we mentioned above.
However you decide to put together your own package, you get a pretty compelling assortment of broadcast TV, cable content, movies, sports, and live events.
And don't forget that you can supplement everything here with the classic TV shows and movies offered by free ad-supported streaming services such as Pluto TV, Tubi, and Xumo.
Of course, we know that some people do need to get live local broadcasts. You can do that for free using an antenna.
Consumer Reports is an independent, nonprofit organization that works side by side with consumers to create a fairer, safer, and healthier world. CR does not endorse products or services, and does not accept advertising. Copyright © 2022, Consumer Reports, Inc.