How to Save Money on Streaming Services
Consumer Reports
9/8/2022
Looking for a cheaper way to watch Hulu, Netflix, and other streaming services? Here are CR's top tips for cutting your TV-watching costs.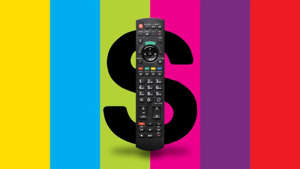 By James K. Willcox
If you haven't checked lately, you may be surprised at how much you're spending on TV streaming services every month. That's what happened to my wife and me recently when we reviewed our expenses.
Once we went through our credit card statements, we discovered that we were paying for monthly subscriptions to nine separate video services, including Amazon Prime, Hulu, and Netflix. The total bill was around $50 a month, or almost $600 a year—on top of the $1,920 we pay annually for our satellite TV service, which we have instead of cable.
We're not alone. Almost a quarter of all American households subscribe to nine or more streaming video services, in addition to any cable plan they have, according to market research firm Parks Associates. Half subscribe to four or more streaming services.
Those numbers rose sharply over the past few years, as many of the country's largest media companies launched their own streaming services featuring popular original content, and stopped licensing shows and movies to services like Amazon Prime and Netflix. (See CR's Guide to Video Streaming Services for a rundown of all the major services, with pricing and programming details.)
That shift means that the Marvel and "Star Wars" movies you used to watch on Netflix are now available only with a Disney+ subscription and that you have to subscribe to Apple TV+ to watch "The Morning Show" and "Severance." Fans of "Stranger Things" still need Netflix, and you'll have to add HBO Max to see "House of the Dragon," the highly anticipated prequel to "Game of Thrones."
Before too long, it's easy to lose track of all the services you're paying for. My wife and I had totally forgotten about some of our subscriptions. For instance, we got a free year of Apple TV+ when I bought a new iPad. When we checked our bills, we discovered that the free period had ended long before and we'd been paying $5 a month for the service, even though we hadn't watched anything on Apple TV+ since the last season of "Ted Lasso." That was a waste.
However, there are easy ways to simplify the confusing and expensive mess that streaming services have become. The following strategies can help you create a great plan for getting most of the shows you want to watch at a price you can afford.
1. Decide What to Do About Cable
Before we dig into streaming services, let's first look at cable, which is the biggest chunk of many households' monthly home entertainment bill.
My wife and I considered canceling our DirecTV satellite service but decided to keep it because it's a good way for her to see Every Single Yankees Game. You may likewise find that a traditional cable (or satellite) package is the best way to get all the network TV you want. You may be able to negotiate for a cheaper cable TV rate. However, other options could be much cheaper.
The least pricey approach of all is to use an inexpensive indoor antenna. If you live in or near a city, it might let you receive all the traditional networks, including local broadcasts, for free.
If you get good reception, an indoor antenna will get ABC, CBS, Fox, and NBC, plus PBS, Telemundo, and dozens of digital subchannels that have been added over the past 20 years. CR has tested good antennas selling for as little as $20. Just check the return policy, in case it turns out you have poor reception in your home.
If an antenna won't work for you, consider using a cable replacement service. It may be cheaper than your cable plan and give you much of the same programming. Cable replacement services stream over the internet, just like Netflix, but they carry local networks and many other stations found on cable. Prices for these services—Hulu + Live TV, YouTube TV, and some others—have been rising, but they may still be cheaper than a cable or satellite package.
2. List Which Services You're Paying For
After you've settled the cable question, it's time to make a list of every streaming service you subscribe to. This might be as simple as scrolling through the apps on your TV, but be sure to double-check your credit card bills, too.
To make it easier to keep track of all your streaming subscriptions, consider moving them to one credit card. Another option is to subscribe to your streaming services through your Amazon, Apple TV+, or Roku account, so the billing is all in one place. Then, each month, review every service you're paying for and determine whether you're still using it enough to justify the cost. This can also help you catch any price hikes.
Once you've made a comprehensive list of your streaming services, it might be easy to eliminate some of them. For instance, if you subscribed last year to a niche service such as BroadwayHD, for $12 a month, just to watch "42nd Street," you can probably let that one go.
But what about the big services—like Apple TV+, HBO Max, and Hulu—which periodically introduce really great shows that people talk about for months? There's a solution for that.
3. Save Money by Service Hopping
Many people sign up for streaming services to watch a particular series and then continue to subscribe even after they've finished every episode. It just becomes part of their monthly expenses, like a utility bill. But that's unnecessary.
Because these services don't require contracts, you can join Disney+ to host a "Star Wars" binge party, then quit until it releases another season of "The Mandalorian," possibly this winter. That will save you $8 a month. Or if you subscribed to Apple TV+ only to watch "Ted Lasso" and you've made it through season two, you can cancel the service and sign up again when the new season is available.
This isn't a novel idea: Thirty-six percent of streaming customers are already "service hoppers," who subscribed to streaming services, switched, then resubscribed multiple times over a period of 12 months, according to a Parks Associates study. And don't worry about missing out: Websites and apps like JustWatch and Reelgood let you keep track of when the shows you want to see become available, so you can sign up just as the new season begins.
4. Choose a Cheaper Tier
Not long ago, streaming services each offered just one pricing option. Now many companies have added cheaper plans, where the shows come with commercials. That's a good way to save money, especially when streaming services raise their prices. For example, in my household we subscribe to the ad-supported versions of Hulu and Paramount+. Hulu is raising its rates across the board in October. It's going from $7 to $8 a month for ad-supported viewing, but we'll still be saving $7 off the ad-free version. HBO Max also has an ad-supported option, and both Netflix and Disney+ are launching their own versions this fall.
5. Stream Shows and Movies for Free
Many great shows and movies, such as "Mad Men" and "The Green Mile," are available on free streaming services like Freevee, Pluto TV, and Tubi. These services have original content, too. In exchange for watching, you'll have to put up with some ads.
In addition, you might be able to take advantage of free promotions on paid services. First, look for any deals offered by your cell phone carrier. For instance, you can get HBO Max free with several unlimited plans from AT&T, or Netflix with most Magenta plans offered by T-Mobile.
Apple offers its own promotions. As of this summer, the company was providing three months of Apple TV+ at no charge if you bought a new iPhone, iPad, Apple TV, or Mac. If you take advantage of promotions like this one, be sure to enter the end date of the free period on your calendar in case you want to cancel before you start getting charged.
6. Share Log-Ins (Within Reason)
Most streaming services expect some degree of log-in sharing. Just don't go overboard. It's probably fine to let your daughter keep using your log-in when she moves to her first apartment, but Netflix might look askance at your sharing accounts with all 10 members of your book club.
That wouldn't work well, anyway. Most services limit the number of people who can access the service at any one time, so if you share your account too widely, you might not be able to use it when you want to.
A few services, including Netflix, offer plans that let you pay more to allow more people stream at a time. (Netflix Premium, which allows four users at a time, costs $20 a month, about $5 more than the company's two-user Standard plan.)
The company could become stricter in the future, though. Netflix recently started charging users in Chile, Costa Rica, and Peru an extra $2 to $3 to share passwords outside of their households. So far, the company hasn't suggested that it might extend that policy to the U.S.
7. Subscribe to Networks Directly
We've already presented a number of ways to get the cable networks you want—through a cable package, an antenna, or a cable replacement service. Here's one more alternative.
Let's say the network you watch most is NBC. These days, you can sign up for NBC's streaming network, Peacock, where shows appear a day after they air on live TV. If you're willing to wait that day, this can save you from paying for a bloated plan with loads of channels you never watch. CBS has its own version, Paramount+. In addition to the regular shows you'd find on those networks, you'll get some streaming-only shows. For example, Paramount+ has several "Star Trek" series and is getting the reboot of "Frasier," starring Kelsey Grammer. Peacock's original shows include "The Resort" and "Yellowstone."
And remember, you can jump into and out of these services, too. My wife and I recently signed up for one month of Peacock to watch "Downton Abbey: A New Era." It cost us $5 (with ads), a great deal because at the time, it would have cost $20 to watch the movie on a pay-per-view service.
Editor's Note: This article also appeared in the October 2022 issue of Consumer Reports magazine.
Consumer Reports is an independent, nonprofit organization that works side by side with consumers to create a fairer, safer, and healthier world. CR does not endorse products or services, and does not accept advertising. Copyright © 2022, Consumer Reports, Inc.