Squid Game Season 2: Cast, Story & Everything We Know

ScreenRant
3/11/2023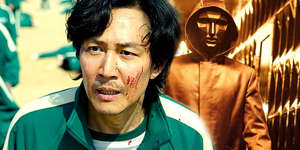 After becoming Netflix's most-watched original show ever, Squid Game is returning for season 2, promising more twisted competitions. Squid Game season 1 focused on a group of everyday people invited to take part in the titular event, a secretive competition that carries grave consequences for its losers. Those selected all carry heavy financial burdens to bear, the type of debt that can make life one big ball of stress. Despite the likelihood of death, if winning the game can make their lives less of a living hell, the contestants are onboard.
Squid Game burst onto the scene and was instantly beloved by both critics and viewers, then rode massive amounts of positive word of mouth to Netflix viewership records. Following its success, Netflix is looking to make Squid Game into a broader universe, with multiple spin-offs in development. It's no surprise that Squid Game season 2 is coming, it's only a matter of how long viewers will have to wait. While there's not been many solid details, there has been a steady stream of Squid Game season 2 updates since it was confirmed, including hints at the cast and potential story.
Related: Squid Game Ending: Gi-hun's Plane Was Going To Crash - Theory Explained
The Latest Squid Game Season 2 News
Despite there being an incredibly high level of anticipation even several years after season 1 concluded, news is still fairly slow on the Squid Game season 2 front. While Netflix continues to feature Squid Game in its marketing, including a recent Super Bowl commercial, the second season hasn't entered production and probably won't for a while yet. However, series creator Hwang Dong-hyuk continues to drop hints about what Squid Game season 2 will eventually look like (via Variety and multiple other outlets). Hwang has said that the second season will involve the return of Gi-Hun and delve further into the role of the mysterious Front Man.
Squid Game Season 2 Is Confirmed
Hwang Dong-hyuk has confirmed that Squid Game season 2 is happening. Much of the appeal in season 1 of Squid Game came from the challenges the contestants faced, and Hwang Dong-hyuk promises more deadly games in Squid Game season 2. Whether Squid Game season 2 will feature entirely new games or a mix of old and new remains to be seen. Season 2 will explore contestants attempting to work together in the hopes of sharing victory, as opposed to how everything devolved to everyone for themselves in season 1. Hwang has also suggested that the second season could focus more on the Front Man and how police allow the Squid Game to take place. There is no Squid Game season 2 release date yet, but most speculation seems to put it at arriving in 2024 at the earliest.
Squid Game Season 2 Cast: Who Is Returning?
So far, the only confirmed returning cast members for Squid Game season 2 are Lee Jung-jae as Gi-hun and Lee Byung-hun as the villainous Front Man who oversees the game. Since so few characters survived season 1, it makes sense that lots of new faces will populate season 2. However, many viewers theorize that the wily Il-nam (O Yeong-su) and Wi Ha-joon as the Front Man's cop brother Hwang Jun-ho may not be quite as dead as Squid Game season 1 led them to believe. Creator Hwang Dong-hyuk has also teased that dead Squid Game characters may be brought back in flashbacks. Hwang has also said in multiple interviews that the second season will introduce the character of Cheol-Su, the boyfriend of Young-hee from season 1.
Squid Game Season 2 Story
Squid Game season 1's ending definitely left the door open for a sequel, although many wondered if the setup would be vastly different and not focus as much on the actual game. Sole surviving protagonist Gi-hun seemingly opts to try and take down the organization behind Squid Game rather than move on with his daughter, and it's unlikely he would willingly participate in the game again, even if baited by Squid Game's resident recruiter. However, there's always a way for dystopian organizations like this to force compliance, so perhaps Gi-hun's daughter will be used to bait him back into the game. Squid Game's complex in-universe creator Il-nam is also apparently dead, which may lead to an even less fair game than before.
Related: Squid Game vs My Name: Which Korean Series' Twist Ending Was More Shocking?
Yes, Netflix is Making a Squid Game Reality Show
A Squid Game reality show may seem to miss the point of the Korean series, but it's on the way. In addition to Squid Game season 2, Netflix aims to create what head Ted Sarandos calls the "Squid Game universe." This could include Squid Game spinoffs set in other countries, but the first part of Netflix's grand plans is Squid Game:The Challenge, a reality show emulating the in-universe competition pitting 456 competitors against each other for a $4.56 million prize. The games obviously won't be as lethal as the fictional version, but the series has already attracted controversy, with on-set injuries and accusations of rigging and cruel treatment of contestants. With The Challenge beginning filming in late 2022, it will probably be the next Squid Game-related content released on Netflix.
More: Squid Game's Alternate Ending Would've Been Better (But Killed Season 2)