The NRA scaled back conference after Columbine out of sympathy; today, full steam ahead

USA TODAY
5/27/2022
Two days after 12 students and a teacher were massacred at Columbine High School in Colorado in 1999, then-NRA President Charlton Heston announced that his group would dramatically scale back its upcoming nearby convention to show "profound sympathy and respect" for the community.
This weekend, the NRA's convention in Houston is full steam ahead as the nation mourns the staggering loss of 19 more children and two teachers in another massacre, this time in Uvalde, Texas.
The three-day NRA event is billed as "a freedom-filled weekend for the entire family" showcasing over 14 acres of the latest guns and gear. It began Friday in Houston less than 300 miles away from Uvalde.
Start the day smarter. Get all the news you need in your inbox each morning.
Scheduled speakers include former President Donald Trump and Texas Sen. Ted Cruz, who are forging ahead despite mounting criticism, and even as three performers – including "American Pie" singer Don McLean – canceled their appearances, citing respect in light of the shooting.
Texas Gov. Greg Abbott was also a scheduled speaker but his office announced late Thursday that he would travel to Uvalde instead and deliver a pre-recorded message to NRA attendees. On Friday morning, Texas Lt. Gov. Dan Patrick said he decided not to speak at the event after "prayerful consideration and discussion with NRA officials."
Daniel Defense, the Georgia-based maker of the gun used by the Uvalde shooter, has also pulled out of the convention. The company has come under scrutiny in the wake of the shooting and is facing criticism for a now-deleted May 16 tweet of a photo showing a small child holding an assault weapon with the caption: "Train up a child in the way he should go, and when he is old, he will not depart from it." 
Although two other Texas lawmakers, U.S. Sen. John Cornyn and U.S. Rep. Dan Crenshaw, will no longer appear at the event, their staffs said it was because of changes in their schedules.
Outside the convention Friday, hundreds of angry protesters demonstrated. Some carried little wooden crosses showing pictures of the children killed inside their classroom. Many children in the crowd wore picture necklaces of the victims and one was holding a sign that read: "Am I next?"
Houston Mayor Sylvester Turner said the city can't break the contract with the NRA to cancel the convention but the greater question is why Texas politicians still plan to speak there. 
"You can't pray and send condolences on one day and then be going and championing guns on the next. That's wrong," Turner said during a city council meeting.
'It can only hurt them'
The NRA has ignored repeated interview requests from USA TODAY but released a statement Wednesday saying "this was an act of a lone, deranged criminal."
"As we gather in Houston, we will reflect on these events, pray for the victims, recognize our patriotic members and pledge to redouble our commitment to making our schools secure," the statement read.
Tom Mauser, who lost his 15-year-old son Daniel in the Columbine attack, said it was telling when the NRA scaled back its convention and trade show in 1999. 
"They understood the sensitivity of having that trade show right after Columbine," said Mauser, who protested at the 1999 convention and is now the spokesman for Colorado Ceasefire.
"Why didn't they go forward with it? If they have no shame and had no problem showing what they have, why not go ahead with it?" Mauser said.
That the convention and gun show are still happening this weekend in Houston shows how much more extreme the NRA has grown in the past two decades, Mauser said.
But he doesn't want them to cancel.
"I think they should put themselves out in front of the world and let's see what they have to say," he said. "I think it can only hurt them ... The rhetoric that they have is just so damning, except to their own hardcore membership. I just think they're so far from mainstream America, and this will show that."
"Thanks for helping my side," he added.
Some of the top national experts on school safety spent much of their time during a Wednesday meeting talking about why the NRA would move forward with its convention, said Ron Avi Astor, an expert on school violence at the University of California, Los Angeles.
"It's going to be a gun celebration," said Astor, who has been studying school violence since the 1980s. "We feel that they're actually going to use this as an opportunity to promote guns further. Because they're going to flip the idea and say, 'Not because guns caused all this, but guns are the solution to all this.'"
The legacy of 'cold dead hands' 
Days after the massacre of 20 children and six staff members at Sandy Hook Elementary School in Newtown, Connecticut, in 2012, NRA CEO and vice president Wayne LaPierre blamed mental illness, video games, movies and music videos. He defended guns.
"The only thing that stops a bad guy with a gun is a good guy with a gun," he said.
Although the NRA pared down its 1999 convention, Heston delivered a defiant speech, saying Denver's mayor asked him not to come.
"We will not be silent or be told, 'Do not come here, you are not welcome in your own land,''' he said. "We cannot, we must not let tragedy lay waste to the most rare, hard-won right in history (the Second Amendment)."
A year later he delivered his now-famous line at the NRA's 2000 convention, holding a Winchester rifle over his head and saying his guns would only be taken away "from my cold, dead hands."
The idea that the government wants to come for people's guns is an oft-repeated one by the NRA.
A week after a mass shooting killed 17 students and staff at Marjory Stoneman Douglas High School in Parkland, Florida in 2018, LaPierre condemned Democrats, the news media and calls for stricter gun laws.
"They hate the NRA, they hate the Second Amendment, they hate individual freedom," LaPierre said at the Conservative Political Action Conference. "Their goal is to eliminate the Second Amendment and our firearms freedoms so they can eradicate all individual freedoms."
The NRA's approach is all about gun sales and revenue streams, said Josh Horwitz, co-director of the Center for Gun Violence Solutions at Johns Hopkins University.
"When you look under the hood, that organization is about raising money," he said. 
Last year, the NRA declared bankruptcy months after being accused of massive fraud. New York Attorney General Letitia James, a Democrat, filed a civil lawsuit against the organization, saying its leaders skimmed at least $64 million from their coffers to finance lavish lifestyles that included trips on private jets and yachts.
Whatever the NRA's motives are for this weekend's event, Mauser said he'll be watching closely and using what is said against the NRA, just as he did after his son was killed in Columbine.
"People like me aren't trying to reach their membership ... We want to reach the people in the middle," he said. "They're going to continue to isolate themselves and they're making it easier for us to reach those people."
More coverage of Texas school shooting from USA TODAY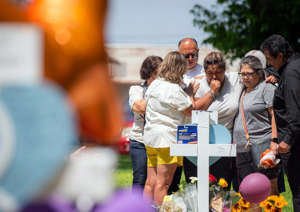 This article originally appeared on USA TODAY: The NRA scaled back conference after Columbine out of sympathy; today, full steam ahead