An elderly couple mysteriously vanished. Eight days later, their children's worse fears came true.

The Washington Post
8/7/2017
Decades ago, at age 42, Mary Tarnowski suffered from a stroke that left her paralyzed on the right side of her body, making it difficult for her to move or speak. Her husband, Ron, served as her caretaker for more than 35 years, assisting her with daily tasks and never leaving her side.
But in recent years, Ron Tarnowski, an Air Force veteran and retired captain for the local fire department, began showing signs of early-onset dementia, his son and police told The Washington Post. Suddenly, the tough man with a "commanding presence," adventurous spirit and the build of a former football player needed to be taken care of, too.
Getting around became even more difficult for the Tarnowskis — Mary, 78, and Ron, 81. The elderly couple hardly ever left the home which their son, Karl Tarnowski, built adjacent to his own so he could keep an eye on them.
Occasionally, Mary Tarnowski would ask her husband to go for a drive, perhaps to nearby restaurants. But they never stayed away for very long and would always be back well before nightfall.
Subscribe to the Post's Must Reads newsletter: Compelling stories you can't afford to miss
"When the sun sets they've always been home," Karl Tarnowski, the younger of the couple's two sons, said in an interview with The Washington Post.

So it was troubling when, on the evening of July 29, Karl Tarnowski and his wife found the elderly couple's home empty, and their Chevy Tahoe gone.
Mary and Ron Tarnowski had driven away that day without telling anyone. They left behind a cellphone, Mary's wheelchair and purse, and all of their medications. At 10 p.m., their worried children called the police to report them missing.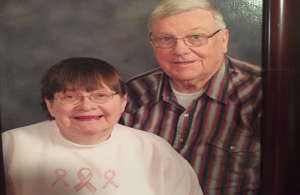 For the next seven days, the family, law enforcement and hundreds of community members in Duluth launched an extensive search effort that covered thousands of miles.
Relatives and local authorities posted fliers all over the surrounding area and posted updates on a Facebook group called "Find Ron and Mary Tarnowski," which was followed by more than 7,000 people across Minnesota and the U.S. Retired Duluth firefighters joined the search for one of their own.
Duluth residents tied purple ribbons around trees and on businesses, in honor of the Alzheimer's Association. They held news conferences outside of the Tarnowski's home attended by the Duluth police chief and about 100 community members.
Relatives and police officials weighed several possible theories of where the couple could have gone. Perhaps they had headed northwest to Grand Rapids, where their sons had been spending the day. Maybe they were stopping by their family's hunting shack, about 30 miles away from their Duluth home.
On Saturday afternoon, eight days after the couple went missing, the family received their answer, and a tragic end to their strenuous search. A U.S. Border Patrol helicopter found the couple's Chevy Tahoe down an overgrown, abandoned driveway in a swampy area off the road just two miles away from the family's hunting property. They were near Brookston, a town about 30 miles from their Duluth home.
Mary's Tarnowski's body was discovered inside the Tahoe, and her husband's body was found outside of the vehicle, about 50 feet from the road.
Authorities believe Ron Tarnowski may have driven onto the trail accidentally before getting his car stuck in the mud, said Lt. Mike Ceynowa, public information officer for the Duluth Police Department. He said police think Tarnowski left the vehicle in order to road to seek help.
Autopsy results are still pending, but Karl Tarnowski said there are signs that his mother died of a combination of dehydration and heat while sitting in the car on a day with temperatures in the 80s. There is also evidence that Ron Tarnowski had fallen down while trudging through the mud, his son said.
Both are believed to have died on July 29, the day they first went missing, the son said. No foul play is expected, authorities said.
Karl Tarnowski does not know what prompted his parents to drive so far away but suspects his father's dementia played a role. His father rarely visited the hunting cabin in recent years, and he never traveled there without one of his two sons. Even then, he would be on edge, wanting to hurry home before sundown to take care of his wife.
The morning before they went missing, "everything seemed totally normal," Karl Tarnowski said. His wife gave his mother a bath, and cooked the couple some breakfast. Later that morning, he left town for the day, telling his father, "see ya later, Papa."
"He said 'take your time, but hurry back,'" Tarnowski said. "He said, "we'll be here anyway, we never go anywhere."
Evidence uncovered during the course of the seven-day search revealed some details about the rest of their day. The couple stopped by a local Wells Fargo Bank, where Ron Tarnowski withdrew an amount of cash typical for him. Then, they stopped at a restaurant for lunch, Karl Tarnowski said.
At some point afterward, they headed northwest on Highway 2 toward their hunting property.
A video from security cameras shows the couple in one of their final moments, walking through a bar and grill in Brookston, Minn., possibly hours before their vehicle got stuck.
The surveillance footage captures the extent of the couple's immobility. They are seen slowly walking into the restaurant. Ron Tarnowski lead the way, trudging along with his cane and holding his wife's hand as she walked behind him, dragging a leg. It took 16 minutes for the couple to take a bathroom break, Karl Tarnowski said.
"It's a horrific case," Ceynowa, the police spokesman, said. "Nobody wants to lose their parents this way."
The story of the missing couple resonated with families across the state, particularly those with elderly parents, said Mark Lavalier, a retired firefighter who worked with Ron Tarnowski for several years and assisted in the search efforts for him and his wife.
"Everybody's got parents, everybody watches them get old and realizes they become vulnerable," Lavalier said. "That's what people reacted to. This could be my parents, this could be everybody's parents."
The story of the Tarnowskis also underscored the dangers vulnerable adults can face when they leave home with no way of being reached or tracked. The OnStar device on the Chevy Tahoe was not activated, and neither Ron nor Mary Tarnowski were accustomed to carrying and using a cellphone. Karl Tarnowski urged the importance of making sure vulnerable adults carry GPS tracking devices or cellphones at all times.
"If there's anything positive outcome to this, it's that it's going to help somebody else find their parents someday," Karl Tarnowski said.