As shutdown keeps TSA screeners home, Miami's airport is closing off a terminal

Miami Herald
1/11/2019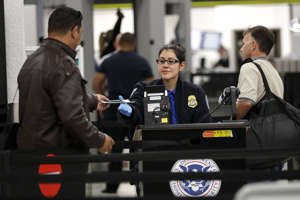 © Lynne Sladky/AP Photo A Transportation Security Administration officer works at a checkpoint at Miami International Airport, Sunday, Jan. 6, in Miami. The TSA acknowledged an increase in the number of its employees calling off work during the partial government shutdown.

With more federal security screeners refusing to work without pay, Miami International Airport plans to cut off access to one of its terminals over the weekend in order to send TSA workers to busier checkpoints, a spokesman said Thursday night.
Closing of the security checkpoint at Terminal G is set to begin at 1 p.m. Saturday, in what would be the 22nd day of a partial shutdown of the federal government. Federal screeners are calling in sick at double the normal rate for Miami, and TSA managers aren't confident they will have enough workers to operate all 11 checkpoints at normal hours throughout the airport, said MIA spokesman Greg Chin.
"We felt we had to make a decision before the weekend," Chin said. "They're erring on the side of caution."
Terminal G, used by United, Bahamas Air and other airlines, will reopen for morning flights on Sunday. It will then close again at 1 p.m., Chin said.
Thursday night, a United spokeswoman issued a statement predicting passengers won't be impacted by the logistical scramble.
"We will work to ensure we do everything we can for our customers, and we do not expect any operational impact," the airline said.
Planes will still be able to drop off passengers at Terminal G throughout the day. But once the security checkpoint closes, outbound passengers will have no access to the gates and the restaurants and shops that depend on departing flights for business will shut down, too, Chin said.
Like other federal workers considered essential, TSA screeners have been working without pay throughout a shutdown that began Dec. 22. Because of lags in pay cycles, TSA workers are set to miss their first paycheck on Friday. That's raising concerns that TSA will see even more employees calling in sick and dropping shifts as they pursue other options for income if the shutdown continues.
President Donald Trump has demanded Congress approve $5 billion for a wall on the southern border as part of the legislative package needed to fund parts of the government for another year. Congressional Democrats aren't budging on their opposition to the wall.
At MIA, some passengers have complained about long waits in screening lines. But Chin said the airport has been monitoring security checkpoints and they have not seen abnormal delays.
Flights that usually leave from that terminal will use gates elsewhere in the airport. Chin said G was chosen because it's the slowest concourse at MIA. He said only 12 planes usually fly out of G after 1 p.m., meaning the disruption only affects about 3 percent of the roughly 450 departing flights MIA sees on a typical day.
But local officials at the county-owned airport and federal managers are bracing for more workforce disruptions if the shutdown continues. Chin said an increase in TSA employees not reporting to work would prompt the airport to close a security checkpoint at terminals that have multiple entry points, such as Concourse J or Concourse D.
United is the largest airline using G, which is also home to Aruba Airlines, Bahamasair, Frontier Airlines and Sun Country.
At Fort Lauderdale-Hollywood International Airport, a spokesman said TSA "call-outs" have been minimal and that they aren't planning to cutback on security checkpoints -- yet.
"We're staying in touch with them to see if those dynamics change," he said. "If there's a shortage, the airport may have airline workers step in for non-technical positions like reviewing boarding passes before the checkpoints."
___
(c)2019 Miami Herald
Visit Miami Herald at www.miamiherald.com
Distributed by Tribune Content Agency, LLC.