C-130 military plane was on its last-ever flight

New York Daily News
5/3/2018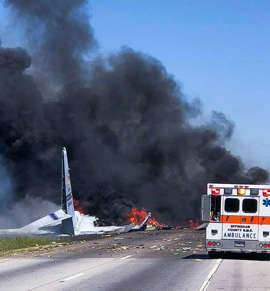 Gallery by photo services
An aging military cargo plane that was used to rescue Americans after a string of devastating hurricanes last year was on its last-ever flight when it crashed and killed all nine people on board.
The C-130 Hercules plane was on its way to Arizona, where it was to be decommissioned after more than 60 years of service in Puerto Rico's Air National Guard.
But the plane crashed onto Georgia's Highway 21 just moments after it took off from Savannah/Hilton Head International Airport on Wednesday morning.
The victims — five crew members and four additional military personnel — were members of the 198th Fighter Squadron, which used the plane to rescue Americans from the British Virgin Islands after Hurricane Irma and later supplied food and water to Puerto Ricans desperate for help after Hurricane Maria.
The victims' names have not been released.
It remains unclear what caused the crash, and the aging plane was last been maintained in April, according to Adjutant General Isabelo Rivera.
The huge plane came down so hard on Wednesday that only the tail section remained intact, said Chris Hanks, a spokesman for the Savannah Professional Firefighters Association.
The fuselage appeared to have struck the median, and pieces of its wings, which spanned 132 feet, were scattered across lanes in both directions.
The debris field stretched 600 feet in diameter, according to Effingham County Sheriff's spokeswoman Gena Bilbo, who said, "It miraculously did not hit any cars, any homes."
Motorist Mark Jones told the Savannah Morning News that he saw the plane hit the road right in front of him, and explode in a huge fireball.
"It didn't look like it nosedived, but it almost looked like it stalled and just went almost flat right there in the middle of the highway," Jones said.
"I'm still shook up and shaking. My stomach is in knots because I know they're people just like me. I wasn't that far from it and I could have just kept going and it would have been me and we wouldn't be talking right now," Jones said.
The U.S. territory's Gov. Ricardo Rossello expressed his sadness, tweeting that "our prayers are with the families of the Puerto Rican crew."
President Donald Trump tweeted that he had been briefed on the crash, and sent "thoughts and prayers for the victims, their families and the great men and women of the National Guard."
With News Wire Services