CNN ridiculed for suggesting 'wealthy' Supreme Court is biased against student loan debtors: 'Worst tweet'

FOX News
2/28/2023
CNN reporter Devan Cole was hit for hypocrisy for his article on President Biden's student loan handout being decided by "nine relatively wealthy people" who all graduated from elite schools.
Cole's Monday's analysis came one day before the Supreme Court is expected to hear the oral arguments for Biden v. Nebraska and United States Department of Education v. Brown. These cases will determine whether Biden has the authority to "cancel" $430 billion worth of federal student-loan debt.
Although the date for the decision is unknown, Cole focused more on the fact that the "fate" of borrowers will eventually be decided by graduates from "elite private schools."
"The fate of President Joe Biden's student loan forgiveness program that would impact scores of borrowers from a wide array of colleges and socioeconomic backgrounds lies in the hands of nine relatively wealthy people who graduated from a short list of elite private schools," Cole wrote.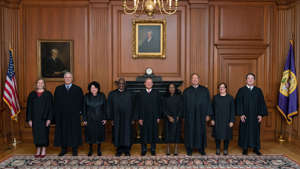 SUPREME COURT MUST STOP BIDEN SNATCHING THIS POWER FROM THE PEOPLE ON STUDENT DEBT HANDOUTS 
He reported, "The justices' salaries alone set them apart from most of the country: Chief Justice John Roberts will make $298,500 in 2023, while each of the associate justices will bring in $274,200 this year for their service. That doesn't include any revenue from outside sources, like book deals."
Cole later added, "[S]ome of the justices have been paid handsomely through lucrative book deals or teaching gigs, according to their financial disclosures, which provide limited information about their finances, those of their spouses and various reimbursements for travel. Among that group is Sotomayor, Gorsuch and Barrett, who have all received over six figures in book royalties or publishing deals in recent years."
The analysis also included a similar comment from Mike Pierce, executive director of the Student Borrower Protection Center, which supported Biden's program in an amicus brief.
"I think it's fair to say that (the justices) didn't live the experiences of the people that benefit from the president's debt relief program. And it's important for them to go into this case understanding the limits of their own life experience and how that might affect their ability to be impartial considering case," Pierce said.
In addition to the Supreme Court justices' wealth, Cole noted that their Ivy League educations "from a small number of prestigious schools" also sets them apart from the borrowers who will be affected by the decision.
SUPREME COURT RELEASES FEBRUARY CALENDAR: BIDEN STUDENT LOAN HANDOUT, TWITTER AND GOOGLE ON THE DOCKET 
The analysis received intense backlash from social media users.
Journalist Siraj Hashmi noted, "interestingly enough, the author of this article, Devan Cole, graduated from George Washington University where the tuition costs nearly $60,000 per year."
He continued, "make no mistake, if you come from a well-to-do background OR have the privilege to go to a great school, by all means, don't hide it. own it. but if you're gonna shame others for going to elite schools, then you better be ready to also get shamed for it."
Substack writer Jim Treacher tweeted, "If the Supreme Court won't do what you want, just think of reasons their decisions don't count. Whatever you do, don't read the United States Constitution."
"CNN apparently thinks this has some bearing on the fact that the Constitution doesn't let the president force taxpayers to bail out $400+ billion in student loans without an appropriation from Congress," American Commitment president Phil Kerpen wrote.
Washington Free Beacon reporter Jon Gabriel Simonson joked about the biased coverage, "once again, good job GOP: 'Warner Bros. Discovery CEO David Zaslav praised CNN and its president, Chris Licht, for deploying a more ideologically 'balanced strategy,' noting that 'over 70 Republicans came on our air' in January."
"Probably the worst tweet in the history of CNN's existence," Grabien founder Tom Elliot said.
Biden's student loan handout plan aims to cancel up to $20,000 in student loan debt for Pell Grant recipients in college and up to $10,000 for others who borrowed using federal student loans, is set to cost taxpayers over $400 billion.