Deceased priest added to abuse list, 2 more being investigated, according to Archdiocese of New Orleans

WDSU New Orleans
12/2/2020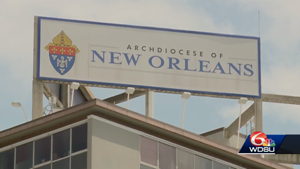 The Archdiocese of New Orleans announced Wednesday that it concluded an investigation into allegations of abuse of minors against a deceased priest, who has since been added to the clergy abuse list. The organization also announced investigations into two retired priests.
According to a statement issued by the Archdiocese, the late Fr. Robert K. Cooper has been added to the Archdiocese of New Orleans Report Regarding Clergy Abuse found online at nolacatholic.org.
Sign up for our Newsletters
The Archdiocese said the deceased Fr. Cooper should not be confused with the Fr. Cooper, who is an active pastor in the Archdiocese of New Orleans.
The complete assignment history for the deceased Robert Cooper is below:
Robert K Cooper:
Date of Birth: 1945
Date of Ordination: 1971
Estimated Timeframe of Abuse: late 1970s
Allegations Received: 2007
Date of Death: 1989
Pastoral Assignments:
Ascension of Our Lord, LaPlace
Our Lady of Prompt Succor, Chalmette
Sacred Heart of Jesus, Norco
St. Andrew the Apostle, New Orleans
St. Angela Merici, Metairie
St. Francis Cabrini, New Orleans
St. James Major, New Orleans
St. Philip Neri, Metairie
St. John Vianney Prep, New Orleans
Two retired priests placed on leave
The Archdiocese also announced it placed two retired priests on administrative leave pending the outcome of investigations lodged against them.
Those priests are Fr. Joseph M. deWater and Fr. J. Luis Fernandez.
Allegations against these priests, including the time frame and location of the allegations, were not included in the Archdiocese statement.
According to the Archdiocese, neither of the retired priests is living in the New Orleans area and neither has a formal pastoral assignment.
"Regardless, this announcement is made to protect the common good and guard the course of justice. These actions do not imply guilt or innocence," said the archdiocese statement.
Clarion-Herald archives show DeWater was a deacon at the Notre Dame seminary in the late 1960s. A 2018 Catholic directory, listing DeWater as retired, says he lives in The Netherlands.
Information about the allegations against the living priests has been reported to law enforcement, according to the archdiocese.
Anyone with any additional information about allegations of abuse should contact law enforcement. Victims of abuse are encouraged to contact the archdiocesan Victims Assistance Coordinator at 504-861-6253.
READ THE FULL STORY:Deceased priest added to abuse list, 2 more being investigated, according to Archdiocese of New Orleans
CHECK OUT WDSU:Get all the New Orleans news you need. With the latest New Orleans weather, sports and stories from around the state, WDSU is your news leader.