FBI opens sweeping probe of clergy sex abuse in New Orleans

WDSU New Orleans
6/30/2022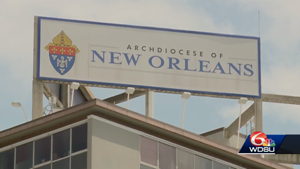 The FBI has opened a widening investigation into sex abuse in the Roman Catholic Church in New Orleans, looking specifically at whether priests took children across state lines to molest them.
That's according to law enforcement officials and others familiar with the inquiry who spoke to The Associated Press on condition of anonymity.
Sign up for our Newsletters
More than a dozen alleged abuse victims have so far been interviewed as part of the probe that comes as the Archdiocese of New Orleans reels from a bankruptcy brought on by a flood of sex abuse lawsuits and allegations church leaders turned a blind eye to generations of predator priests.
The Archdiocese of New Orleans issued the following statement regarding the report:
"Beyond today's Associated Press report, the Archdiocese of New Orleans is unaware of any federal investigation into clergy abuse."
The Survivors Network for Those Abused by Priests issued the following statement regarding the probe:
"We are encouraged by news that the FBI is looking into sexual abuse and cover-up within the Archdiocese of New Orleans. We have no doubt that this probe will reveal far more truths to the public than we have gotten from church officials in New Orleans. A probe like this is absolutely critical, especially when considering the move by church hierarchs in New Orleans to pre-emptively declare bankruptcy, a move that we believe was designed to shield assets, protect secrets, and prevent information about the cover-up from making it into the public eye.
"As we see it, the best justice that victims and the unsuspecting faithful can hope for lies with a secular law enforcement investigation. SNAP has long argued that true reform and change will come from the involvement of secular authorities and believe that what is happening in New Orleans is a welcome change and something that should be replicated throughout the United States. We hope that this news will especially encourage any survivors who have been suffering in silence to find the strength to come forward, make a report, and start healing.
"We believe that priests and deacons took boys across Louisiana's borders to sexually abuse them, these acts are federal crimes, some of which may still be prosecutable. We applaud the New Orleans FBI field office and hope their investigation is not only for the Archdiocese of New Orleans but for all the dioceses across the state."
READ THE FULL STORY:FBI opens sweeping probe of clergy sex abuse in New Orleans
CHECK OUT WDSU:Get all the New Orleans news you need. With the latest New Orleans weather, sports and stories from around the state, WDSU is your news leader.