Fort Worth officer in viral video suspended for 10 days

Fort Worth Star-Telegram
1/9/2017
Fort Worth Police Officer William Martin had responded to a potential assault call at a residence in southwest Fort Worth on the afternoon of Dec. 21 and the situation quickly escalated.
Jacqueline Craig, 46, had called police to report that she suspected that her neighbor, an adult male, had choked her 7-year-old son because he dropped some raisins in his yard and refused to pick them up when asked.
Craig's 19-year-old daughter, Brea Hymond, was videoing the discussion between Martin and Craig when things got a little testy.
Martin: "Why don't you teach your son not to litter?"
Craig: "He can't prove that my son littered. But it doesn't matter if he did or didn't, it doesn't give him the right to put his hands on him."
Martin: "Why not?"
As the conversation between the officer and Craig heated up, Craig's 15-year-daughter, Jacques Craig, stepped in between the two and the officer grabbed her from behind. The video shows Martin being peppered with profane language from women who had gathered at the scene. At one point, Martin pulled and pointed his Taser at Craig and Jacques Craig. He also wrestled them both to the ground.
Jacques Craig told the Star-Telegram that she "was just trying to protect my mom."
Eventually, Craig and her two daughters were placed in police vehicles and taken away from the house.
Craig and Hymond were arrested and Jacques Craig was taken to a juvenile detention center.
Craig's niece, Porsha Craver, posted an edited version of the profanity-laced video of the arrest that went viral, sparking the ire of hundreds of viewers, some who called for the officer to be fired.
Craver's video had been viewed more than 3.3 million times as of Saturday night.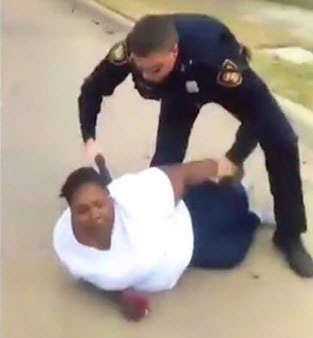 © YouTube Fort Worth police officer William Martin arresting Jacqueline Craig. Martin has been suspended 10 days for his actions. A longer, 30-minute version of the video was released later.
The case against Craig and her older daughter has been forwarded to the Tarrant County district attorney's office for review and presentation to the grand jury, according to police.
Craig and her older daughter face charges of interference with a public duty, resisting arrest, disorderly conduct and failing to provide identification, police said. Jacques Craig has been accused of interference with public duty, police said.
The case involving the resident accused by the family of assaulting Craig's 7-year-old son will also be presented before a grand jury, police said.
Lee Merritt, the family's attorney, has organized an email and telephone call campaign for residents to make their voices heard concerning the incident, said his office has confirmed that 112 emails were sent to police and city officials as of Thursday, and he said he does not know how many people have called.
"So far we've received no responses from officials other than they were awaiting the outcome of the investigation," Merritt said.
———
(Staff writer Mitch Mitchell contributed to this report, which contains information from Star-Telegram archives.)