Dorian regains major hurricane strength, as Category 3 storm takes aim at Carolinas

The Washington Post
9/5/2019
Stronger and a little larger, Hurricane Dorian has exited Florida, setting its sights on the coasts of Georgia and the Carolinas. These areas face a triple threat of "destructive winds, flooding rains, and life-threatening storm surges," according to the National Hurricane Center.
While Dorian stayed far enough off the coast to largely spare Florida from the worst of its wrath, it is forecast to make a much closer approach to the coastline of the Carolinas Thursday and Friday and could even make landfall. Impacts are thus expected to be more severe.
Subscribe to the Post Most newsletter: Today's most popular stories on The Washington Post
In addition, Dorian has gained some added strength, increasing the risk of storm hazards. It maximum sustained winds are back up to 115 mph, meaning it has regained Category 3 intensity. If it makes landfall in North Carolina, it would be the first Category 3 to strike since Fran in 1996. While intensifying, its wind field has expanded, with tropical-storm and hurricane-force winds covering more territory.
The storm is likely to buffet the entire coastline South Carolina well into Thursday and North Carolina through the first half of Friday.
Storm Tracker: Click Here to Follow Dorian's Path
Around Charleston, S.C., for example, wind gusts could hit 90 mph or so, and water levels could rank among the top five levels ever recorded due to the combination of ocean surge and up to 15 inches of rain. Higher wind gusts up to 100 mph or so could lash North Carolina's Outer Banks.
"Life threatening storm surge with significant coastal flooding is expected along a large portion of the Southeast and Mid-Atlantic coasts of the United States during the next couple of days," the Hurricane Center stated in their 11 p.m. advisory.
Power outages and wind damage are likely in many parts of the coastal Carolinas.
Even the Virginia Tidewater and southern Delmarva Peninsula could endure tropical storm conditions by Friday, after which the storm is expected to finally zoom away to the northeast.
Because the storm has grown larger, it means its strong winds cover a larger area, capable of generating giant waves and pushing large amounts of water toward the shore.
Coastal flooding due to storm surge is a risk from Georgia to Southeast Virginia where a storm-driven rise in water above normally dry land is predicted to reach at least 2 to 4 feet and up to 8 feet. Storm surge warnings cover this entire zone.
The latest
As of 11 p.m. on Wednesday, the storm was 105 miles south of Charleston, S.C., and moving north at 7 mph.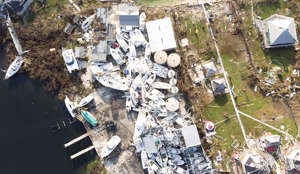 Slideshow by photo services
The Hurricane Center wrote in its latest bulletin that Dorian was "a little better organized with a clear eye surrounded by a ring of very deep convection." The storm's peak sustained winds are up to 115 mph, a 10 mph increase from earlier in the day, making it once again a major Category 3 storm.
Highest wind gusts across the local area from Hurricane Dorian so far as of 1:00 AM. #savwx #chswx #gawx #scwx pic.twitter.com/dfXAVWNFWy

— NWS Charleston, SC (@NWSCharlestonSC) September 5, 2019
Dorian is expected to maintain its current intensity into Thursday, before a slow weakening trend begins.
The storm has grown steadily larger since the weekend and this trend is expected to continue. Hurricane-force winds extend outward up to 60 miles from the center, and tropical-storm-force winds extend outward up to 195 miles. (Earlier today tropical-storm-force winds extended outward 170 miles).
Street flooding continues along A1A and coastal roads near the east coast.

🙅‍♂️🚗 Please try to stay off the roads and if you must drive, don't drive into flooded roads- find an alternative route. https://t.co/UvvWr4Rs2Q

— NWS Jacksonville (@NWSJacksonville) September 4, 2019
On Wednesday night, radar showed Dorian's outer rain bands bringing heavy rain and strong winds in the coastal zone from near Jacksonville, Fla. to southeast North Carolina. The National Weather Service wrote that rainfall rates in coastal South Carolina could reach three inches per hour causing flashing flooding.
The waves are reaching the sea wall in Vilano Beach. High tide is around 1pm. Couple that with storm surge and we'll most likely see significant erosion. @wjxt4 pic.twitter.com/5YVtQNgJws

— Vic Micolucci WJXT (@WJXTvic) September 4, 2019
Bouts of tropical-storm-force winds expanded over much of the Georgia and southern South Carolina coast:
During the afternoon, scenes from social media in northeast Florida showed water due to storm surge running up to homes in Vilano Beach and flooding streets around St. Augustine:
Here's the updated #Dorian storm surge forecast from the 5 pm advisory. The water could reach the following heights above ground somewhere in the indicated areas if the peak surge occurs at the time of high tide. For more details see https://t.co/tW4KeFW0gB @NHC_Surge pic.twitter.com/oCUsc7ulQ0

— National Hurricane Center (@NHC_Atlantic) September 4, 2019
Coastal flooding has even spread farther north, with areas of high water already reported in Charleston, S.C. where water levels were running two feet above predicted values.
Forecast for Georgia, the Carolinas and Virginia
Conditions are expected to continue deteriorating in coastal Georgia and South Carolina overnight Wednesday night into Thursday. In North Carolina, it may take until Thursday morning for tropical storm conditions to commence although gusty showers are already developing. Most of the storm effects in southeastern Virginia should hold off until late Thursday night or Friday morning.
The severity of Dorian's effects will be closely related to how closely Dorian tracks to the coast and whether it makes landfall. Most computer models now forecast the center of Dorian to come very close to the coast of South Carolina and to come ashore in North Carolina, with the highest chance over the Outer Banks. 
The @NWSWPC has issued a High Risk area for flash flooding over eastern South Carolina & SE North Carolina for Thursday due to #Dorian. Very heavy rainfall totals of up 15 inches are possible. For more details see https://t.co/tW4KeFW0gB or https://t.co/LsPr5wAy5h pic.twitter.com/Ngp4I0mMQ6

— National Hurricane Center (@NHC_Atlantic) September 4, 2019
Computer models generally project that the storm center should remain far enough off the coast of Georgia to limit winds to tropical-storm force (39 to 73 mph) and rainfall totals to 2 to 4 inches. Tropical storm warnings are in effect here.
In the coastal Carolinas, under hurricane warnings, sustained winds could reach 60 to 80 mph with gusts over 100 mph, highest along the North Carolina Outer Banks Friday morning. Rainfall amounts of 5 to 10 inches are predicted, and localized totals up to 15 inches, meaning a high risk of flash flooding.
The Georgia and South Carolina coastlines are particularly vulnerable to storm surge flooding, even from a storm that does not make landfall, due to the shape of the land on and just offshore, as well as the effects of sea-level rise and land subsidence over time. The surge could reach 3 to 5 feet in Georgia and 5 to 8 feet from the Isle of Palms to Myrtle Beach, South Carolina. From Cape Lookout to Duck, North Carolina, including Pamlico and Albemarle Sounds and the Neuse and Pamlico Rivers. a surge of 4 to 6 ft is anticipated.
The center of #Dorian may still be off the FL coast, but impactful coastal #flooding at high tides today/tonight in GA/SC.

-Ft. Pulaski, GA (~1p today) exceeded only by Matthew & Irma.

-Charleston, SC (overnight tonight) may top Matthew & Irma, exceeded only by Hugo. pic.twitter.com/wejOfi6jIO

— Jonathan Erdman (@wxjerdman) September 4, 2019
Farther north, the possibility of a 2-to-4-foot surge exists in Hampton Roads, Va.
The Weather Service forecast office in Charleston, S.C., is forecasting that storm-surge flooding may begin to occur there on Wednesday, well ahead of the storm's center of circulation potentially peaking Wednesday night. Heavy rains of 6 to 10 inches or more could worsen the surge-related flooding by impeding drainage back out to sea.
"The combination of significant storm surge inundation and heavy rainfall will enhance the risk for flash flooding, especially along coast, including Downtown Charleston, portions of the Savannah Metro Area, and the nearby coastal communities," the Weather Service office in Charleston wrote. "This is a dangerous situation and preparations should be rushed to completion today."
Depending on the timing of the maximum storm surge, Charleston could see this storm bring one of its top five water levels on record. 
Northwest Bahamas took a nightmarish, 40 hour direct hit
Fort Pulaski, Georgia, near Savannah, is forecast to have coastal flooding at midday Wednesday that would be exceeded only by Hurricanes Matthew and Irma, while Charleston may see a 2nd-worst flood event, behind 1989′s Hurricane Hugo, on Wednesday night.
According to the Weather Service office in Charleston, based on the present forecast track, the result could be particularly severe. Among the possible effects, it listed: "Large areas of deep inundation with storm surge flooding accentuated by battering waves. Structural damage to buildings, with several washing away. Damage compounded by floating debris. Locations may be uninhabitable for an extended period."
Locations farther north from Virginia Beach to the southern Delmarva are expected to be scraped by the storm Friday and Friday night, with heavy rains, tropical storm force winds and coastal flooding. A tropical storm warning is in effect from the North Carolina-Virginia border to Chincoteague, and for the Chesapeake Bay from Smith Point southward, where 3 to 6 inches of rain are possible along with wind gusts up to 60 mph. The storm surge in this zone could reach to 2 to 4 feet above the normal high tide.
A Tropical Storm Watch has been issued from north of Chincoteague, Virginia, to Fenwick Island, Delaware, for the Chesapeake Bay from Smith Point to Drum Point, and for the Tidal Potomac River south of Cobb Island. This area sits along the western edge of where significant wind and rain are possible and may or may not experience tropical-storm conditions.
Forecast for Florida
The center of Dorian passed north of Florida Wednesday night and all watches and warnings were dropped.
Northwest Bahamas took a nightmarish, 40 hour direct hit
Between late Sunday and Tuesday, Dorian slammed into the northwestern Bahamas with wind gusts up to 220 mph and a 23-foot storm surge. Video and images emerging from the Bahamas show a toll of absolute devastation on Great Abaco and Grand Bahama Islands, two locations where the eye of the storm made landfall.
Grand Bahama Island suffered an onslaught from this storm that few places on Earth have experienced, remaining in the eyewall of a major hurricane (between Category 3 and 5) for 40 hours. The eyewall is the most severe part of a hurricane that contains its strongest winds and generates the most destructive storm-surge flooding.
Dorian came to a virtual standstill as it encountered the northwest Bahamas. Between 3 a.m. on Labor Day and 5 a.m. on Tuesday, the storm moved just 30 miles in 28 hours . In addition to wind gusts up to 220 mph and a 23-foot storm surge, up to 40 inches of rain were estimated in some areas.
Dorian's place in history
Dorian is tied for the second-strongest storm (as judged by its maximum sustained winds) ever recorded in the Atlantic Ocean, behind Hurricane Allen of 1980, and, after striking the northern Bahamas, tied with the 1935 Labor Day Hurricane for the title of the strongest Atlantic hurricane at landfall .
It is only the second Category 5 hurricane to make landfall in the Bahamas since 1983, according to Phil Klotzbach of Colorado State University. The only other is Hurricane Andrew in 1992. The international hurricane database goes back continuously only to 1983.
[ Hurricane Dorian has smashed all sorts of intensity records in the Atlantic Ocean ]
The storm's peak sustained winds rank as the strongest so far north in the Atlantic Ocean east of Florida on record. Its pressure, which bottomed out at 910 millibars, is significantly lower than Hurricane Andrew's when it made landfall in South Florida in 1992 (the lower the pressure, the stronger the storm).
With Dorian attaining Category 5 strength, this is the first time since the start of the satellite era (in the 1960s) that Category 5 storms have developed in the tropical Atlantic for four straight years, according to Capital Weather Gang tropical weather expert Brian McNoldy.
The unusual strength of Dorian and the rate at which it developed is consistent with the expectation of more intense hurricanes in a warming world. Some studies have shown increases in hurricane rapid intensification , and modeling studies project an uptick in the frequency of Category 4 and 5 storms.
Dorian may have also set a record for the longest period of Category 4 and 5 conditions to strike one location in the North Atlantic Basin since the dawn of the satellite era, but historical data is relatively sparse. 
Dorian may have also set a record for the longest period of Category 4 and 5 conditions to strike one location in the North Atlantic Basin since the dawn of the satellite era, but historical data is relatively sparse.