Lawmakers in several states weigh bills to help prevent mass shootings

Tribune News Service
4/13/2018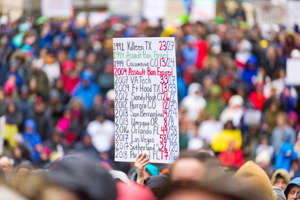 Gallery by photo services
This week, lawmakers from the Northeast to the Deep South have been debating and voting on gun control legislation, with mixed results. Here's a snapshot of what has been happening with these measures in recent days.
___
VERMONT
Over the objection of gun rights advocates, Republican Gov. Phil Scott signed three bills Wednesday that will ban high-capacity magazines and the rapid-fire devices known as "bump stocks," expand background checks for gun purchases, and increase the legal age for buying assault weapons from 18 to 21.
Scott also signed into law a "red flag" policy to make it easier for police to take guns from potentially dangerous people. Under such a law, police report to a court anyone who may pose a significant or imminent danger to themselves or others. Threats of violence made on social media can constitute a red flag.
If a court finds that person to be a threat, it can have his or her guns confiscated.
"If we are at a point when our kids are afraid to go to school and parents are afraid to put their kids on a bus, who are we?" Scott said in a statement.
These legislative changes come after police arrested Jack Sawyer, 18, in February on suspicion of plotting a mass shooting at a Vermont high school. Sawyer pleaded not guilty to first-degree attempted murder, aggravated assault with a weapon and two counts of aggravated attempted murder after being accused of bringing a gun onto the campus of Fair Haven Union High School.
A number of states, including Massachusetts and New Jersey, have passed laws to ban bump stocks. Last month the Trump administration said the Justice Department would move to ban the devices, which essentially turn semiautomatic weapons into automatic weapons.
Gun rights enthusiasts protested Vermont's legislation last month, gathering outside the Statehouse and passing out 30-round magazines of ammunition. On Wednesday, demonstrators for and against the measures gathered for the bill-signing ceremony on the steps of the Statehouse in Montepelier.
Protesters wearing orange hunting vests and caps carried signs that read, "Not My Governor." One supporter of the bills carried a sign reading, "Thank you Gov. Scott!"
___
LOUISIANA
A bill prohibiting the sale of assault weapons to people under 21 was defeated in the state Legislature on Tuesday.
Current state law allows people 18 or older to purchase assault weapons. Democratic state Sen. Troy Carter proposed Senate Bill 274 to raise the age from 18 to 21 after the Feb. 14 mass shooting at Marjory Stoneman Douglas High School in Parkland, Fla.
"Everyone would acknowledge that the shootings in Florida were a tipping point. We've had numbers of shootings in theaters and churches. ... At some point we have to start doing something about these things," Carter said in a phone interview Wednesday.
Senators voted 26-9 against the bill. Carter also sponsored Senate Bill 491, which would prohibit the sale of bump stocks. It is scheduled for a vote next week.
Carter said that the defeated bill may be brought back for reconsideration at a later date and that he hopes other lawmakers change their stance.
"I'm a gun enthusiast. I would never try to deny anyone the right to bear arms," he said. "Do you need an AK-47 to hunt or protect your home? The answer for those who want to be realistic about it is no."
___
RHODE ISLAND
A pair of gun control bills are swiftly moving through the General Assembly in the New England state.
The Rhode Island House passed two bills Thursday that would ban the purchase of bump stocks and implement a red flag policy.
The measures will next head to the state Senate. The red flag measure has enjoyed support from various senators for months.
"Too often, after a mass shooting we learn about all the warning signs people saw from the shooter and wonder why they still had guns," Senate Majority Whip Maryellen Goodwin, a Democrat, said in a statement.
___
OHIO
Republican Gov. John Kasich was joined this week by the father of a victim from the Florida mass school shooting to voice support for gun control legislation pending in the Legislature.
Fred Guttenberg testified Tuesday at a meeting with Kasich and sponsors of House Bill 585, urging lawmakers to implement the six proposed policy changes.
Guttenberg's daughter, Jaime, was one of the 17 people killed in the Parkland shooting.
The bill seeks to implement a red flag policy as well as ban bump stocks, armor-piercing ammunition and the purchase of guns by people convicted of domestic violence.
Guttenberg, whose family is from Ohio, has been campaigning across the state for gun control legislation.
The gun policy recommendations were made by a bipartisan panel created by Kasich. A date for lawmakers to vote on the bill has not been determined.
___
MARYLAND
Lawmakers this week approved a ban on all rapid-fire trigger devices, as well as bills that would fund gun violence programs and create a review board to oversee handgun permits. The state Senate voted on the measures Tuesday, sending them to Republican Gov. Larry Hogan, who is expected to sign all three into law.
The law on rapid-fire trigger devices goes further than legislation in other states targeting bump stocks. Explaining why the law addresses several devices, Jen Pauliukonis, president of Marylanders to Prevent Gun Violence, said, "There are other types of these accessories that have similar effects. Why ban one specific type of accessory?"
The bill's passage is a "huge victory" for gun control advocates, Pauliukonis said. "Most people think Maryland is an incredible progressive state. But it's not that easy," she said.
A fourth bill, to establish a red flag policy, is pending in the House of Delegates. Hogan has expressed support for that measure too.
The bills come a month after a 17-year-old boy shot two students and himself at Great Mills High School. One of the victims, 16-year-old Jaelynn Willey, died from her injuries days later.
___
SOUTH CAROLINA
In the Palmetto State, a bill to ban assault weapons is moving at a snail's pace and won't be considered until at least November, its author said Thursday.
Rep. Wendy Brawley introduced her bill Feb. 21, a week after the Parkland shooting. Similar to legislation in other states, the bill would ban assault weapons and their magazines, as well as bump stocks.
Unlike measures in other states, it hasn't even been brought to the table for discussion. The House Constitutional Laws Subcommittee did not take up the measure Wednesday - the last day for a bill to pass out of the committee where it was introduced.
The bill had been on the agenda, but Brawley, a Democrat, said the subcommittee meeting started 15 minutes late and lasted only an hour because a House session was scheduled to begin. Her bill never came up.
Brawley, who said she is challenging "this state's ongoing love affair with guns," will have to wait eight months before her bill can be brought up again for a vote. "This is not going to be an easy fight, but I will refile this bill in November," she said.
Visit the Los Angeles Times at www.latimes.com