Man accused of killing toddler, stabbing 8 refugees, was arrested 2 months ago

Tribune News Service
7/3/2018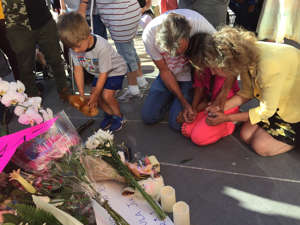 © /Rebecca Boone A boy places a stuffed animal as other people kneel at a memorial during a vigil at City Hall in Boise, Idaho, Monday, July 2, 2018. A 3-year-old Idaho girl who was stabbed at her birthday party died Monday, two days after a man invaded the celebration and attacked nine people with a knife, authorities said BOISE, Idaho - The man accused of stabbing a toddler to death and using a knife to injure eight other people Saturday has a background that includes sexual battery, assault, dealing drugs and spending time in a federal prison.
Timmy Kinner Jr., 30, who a prosecutor on Monday described as homeless, has known criminal records in Utah and Tennessee. Records show he was arrested as recently as April in Utah, spending three days in jail but his life of crime dates back more than a decade.
Kinner is accused of stabbing refugees gathered at a 3-year-old girl's birthday party at the Wylie Street Station Apartments. The apartment is home to many refugees and the victims were from Syria, Iraq and Ethiopia.
He was arraigned Monday afternoon before Judge Russell Comstock.
In his most recent arrest, Kinner's victims included the 3-year-old birthday girl who died, two 4-year-olds and children ages 6, 8 and 12, as well as three adults, police reported.
The knife police said Kinner used in the attack was a large, folding blade knife, according to Boise Police. It was found in the canal that runs just south of State Street when exiting the apartment complex on Wylie Lane.
In April, the St. George, Utah, Police Department arrested Kinner for misdemeanor theft. He was sentenced to three days in jail and 18 months of supervised probation. He was ordered to pay $700 in restitution. In Utah, his probation circumstances required that he keep the court advised of his current residence and to notify the court within 48 hours if he changed addresses.
© Darin Oswald/Idaho Statesman/TNS Timmy Kinner, 30, appears before 4th District Magistrate Judge Russell Comstock with a public defender Tuesday, July 2, 2108 at the Ada County Courthouse in Boise, Idaho. Kinner was arrested Saturday night after allegedly stabbing nine people at a 3-year-old girl's birthday party with her refugee family. One victim was reported to have died from injuries. Six of the victims were children. Kinner is a convicted felon, which would have prohibited him from owning a firearm, but he has a history of illegally possessing weapons. His record also shows that he has a history of violating the terms of his supervised release.
In 2015: Kinner was charged in June on suspicion of two felony counts for manufacturing, delivering or selling a controlled substance, possession of marijuana, unlawful possession of a weapon and misdemeanor theft.
In 2014: Kinner was charged with misdemeanor assault causing bodily harm in September, and one month later, he was charged with misdemeanor indecent exposure.
In 2013: Kinner was arrested in January for two counts of misdemeanor indecent exposure, and in December, he was arrested for felony especially aggravated robbery but the charge was dismissed. In July, he was also charged with felony aggravated assault.
In 2012: He was charged with two felony counts of aggravated assault and later with misdemeanor assault by offensive act and felony sexual battery. In October, he was charged with misdemeanor aggravated assault. In November, he was charged with assault by bodily harm and assault by offensive contact, both misdemeanors.
In 2008: in February, he was charged with possession of marijuana, reckless driving, evading arrest, two counts of criminal trespassing, and two counts of false imprisonment, and unlawful possession of a weapon in a public place - all misdemeanors.
In federal court in 2008, Kinner was indicted in Tennessee for illegal possession of a semiautomatic handgun and distributing 12 grams or more of marijuana, according to court records. In that case, he pleaded guilty to the weapons charge and was sentenced in 2009 to three years and 10 months in prison and 500 hours of drug rehabilitation. After his release from prison, he was ordered to serve three years of supervised release.
In that case, a federal judge revoked his supervised release at least twice because he committed new crimes.
In 2007: In October, he was charged with possession of marijuana.
In 2006: In April, he was charged with unlawful possession of a weapon in a public place. In October, Kinner was charged with misdemeanor unlawful possession of a weapon.
Most of Kinner's charges were settled in plea agreements or amended through prosecution.
He also served time in a Kentucky prison, according to police. He had never been arrested in Idaho before Saturday.
In addition to first-degree murder, Kinner is charged with eight counts of aggravated battery, punishable by up to 15 years each if convicted, and an enhancement for use of a deadly weapon in the commission of a crime.
If convicted, he faces up to life in prison or the death penalty.
He is being held without bond.
In an effort to learn more about the initial reports of the stabbing, the Idaho Statesman requested copies of the 911 recorded calls made on the night of the stabbings. Ada County denied the request Monday.
Visit The Idaho Statesman (Boise, Idaho) at www.idahostatesman.com