Bail set at $2M for suspect in Maryland, Delaware shootings

Baltimore Sun
10/19/2017
Video by CBS Baltimore

BALTIMORE — The man suspected of carrying out shootings in two states that killed three in Maryland and injured three others is being held in Delaware on more than $2 million bail.

Radee L. Prince, 37, faces a range of charges — including first-degree murder — in Harford County, where the first shooting occurred, and in Wilmington, Del., where the second shooting occurred and where he was taken into custody late Wednesday. It was in a Wilmington courtroom that a judge set Prince's bail at $2.1 million, according to court records.
Prince is accused of shooting five people about 9 a.m. Wednesday at a kitchen countertop company in an Edgewood business park where he had worked for the past four months, police said. Less than two hours later, police were called to an auto shop in Wilmington, where they say Prince shot another man before fleeing in an SUV.
Police said Prince's vehicle was spotted about 5:35 p.m. near a high school in Newark, and he was arrested by three agents with the Bureau of Alcohol, Tobacco, Firearms and Explosives after a brief foot chase about 7:05 p.m. No one was injured during the arrest. The ATF said the arrest occurred "without incident."
Because Prince was arrested in Delaware, it was there that he first faced a judge — though the more serious charges against him will come in Maryland.
Locations related to man suspected in Maryland, Delaware shootings
Nicole Magnusson, a spokeswoman with the Delaware prosecutor's office, said Prince was charged in Delaware with first-degree attempted murder, possession of a firearm during the commission of a felony, possession or control of firearm by person prohibited, and carrying a concealed deadly weapon. It was on those charges that Prince received bail.
According to court records, the man Prince allegedly shot at the Wilmington auto shop told police that Prince was the shooter, as did a witness at the shop.
"The witness stated that they have known Radee Prince for years and was positive he was the shooter," Det. Robert Fox wrote in charging documents.
© Sarah L. Voisin/The Washington Post via Getty Images Police stand outside the Harford County Sheriff's Office Incident Command center. A gunman opened fire at an Edgewood Maryland office park on Wednesday morning, October 18, 2017, killing three co-workers and wounding two others. The Harford County Sheriff's Office said Thursday morning that Prince faces county charges of first- and second-degree murder, attempted first- and second-degree murder, first- and second-degree assault, and use of a firearm to commit a felony. The office said it would seek to have Prince returned to Maryland, but did not have a timeline for when that might occur.
Harford County Sheriff's Office spokeswoman Cristie Kahler said "the process will begin to determine when he is extradited back to Harford County."
A woman who answered the phone at the Wilmington number listed for Prince in court records hung up the phone, and family could not be reached for comment. An attorney who represented Prince in a previous criminal case also could not be reached for comment.
Edgewood shooting suspect arrested in Delaware; slain office park victims identified
The five victims in the Edgewood shooting were all employees of the business, Advanced Granite Solutions.
The three victims killed in the Edgewood shooting were identified by the sheriff's office late Wednesday as Bayarsaikhan Tudev, 53, of Virginia; Jose Hidalgo Romero, 34, of Aberdeen; and Enis Mrvoljak, 48, of Dundalk.
The two victims who were wounded in the Edgewood shooting remained in critical condition at Maryland Shock Trauma Center on Thursday morning, according to a hospital spokeswoman. They were not identified.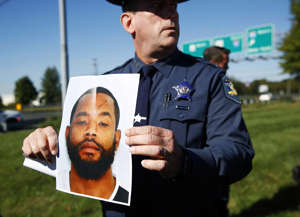 © Patrick Semansky/AP Photo Harford County Sheriff Jeffrey Gahler displays a photo of Radee Labeeb Prince, the suspect in a shooting at a business park in the Edgewood area of Harford County, Md., on Oct. 18, 2017. Burak Caba, the owner of Advanced Granite Solutions, said Prince worked as a machine operator, and Tudev, Romero and Mrvoljak all worked as granite polishers.
Caba said Tudev, Romero and Mrvoljak were all "the nicest people."
Kim Holsapple, of Joppatowne, paid her respects to the victims of Wednesday's shooting with a bouquet of flowers she left at a small memorial outside Advanced Granite Solutions Thursday morning.
"It's just so sad what our society is coming to," she said. "These people need to be remembered. They didn't deserve this."
Holsapple said her daughter was nearby at the time on lockdown after the shooting. She couldn't believe the suspect made it to Delaware, but was happy he was arrested without incident.
"I'm just glad they got him alive," she said. "Maybe he can answer some questions."
———
(The Baltimore Sun's Jessica Anderson and Colin Campbell contributed to this report.)