Morris County road closures, sinkhole after area flooding

KSNT Topeka
7/2/2022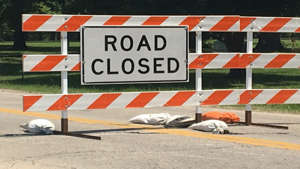 MORRIS COUNTY (KSNT) – As of 12:30 p.m., multiple roads were closed in Morris County due to water and mud over the road, on Saturday.
There is a large sinkhole on G Avenue between 1200 and 1300 Road requiring the road to remain closed. The following roads are also closed:
500 D-FF
F 500-600
400 D-F
300 D-F
800 D-G
The Morris County Sheriff's Office is asking people to look for other routes and drive safely.
Copyright 2022 Nexstar Media Inc. All rights reserved. This material may not be published, broadcast, rewritten, or redistributed.
For the latest news, weather, sports, and streaming video, head to KSNT 27 News.