Pacific Life pulls ads from Tucker Carlson's show after 'poorer and dirtier' immigration comment

The Hill
12/15/2018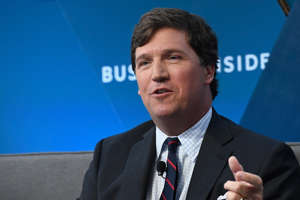 Insurance company Pacific Life announced Friday that it is pulling its advertisements from Fox News's "Tucker Carlson Tonight" after the host said the "immigration crisis" in America makes the country "poorer and dirtier and more divided."
The action came after an advertisement from the company was shown on-screen right after Carlson made the comment on his opening monologue.
The ad promoted the company as having been "protecting generations of families for 150 years."
The company quickly received backlash on social media calling for it to distance itself from Carlson's program.
Pacific Life said it would pull all ads from the show "in the coming weeks as we reevaluate our relationship with his program," according to a statement posted to Twitter.
"One of our ads appeared on Tucker Carlson's show last night following a segment where Mr. Carlson made a number of statements regarding immigration," the company said.
"As a company, we strongly disagree with Mr. Carlson's statements. Our customer base and our workforce reflect the diversity of our great nation, something we take great pride in," the statement also read.
"We will not be advertising on Mr. Carlson's show in the coming weeks as we reevaluate our relationship with his program."
A message from Pacific Life: pic.twitter.com/bDq9hzia53

- Pacific Life (@pacificlife) December 14, 2018
A Fox News spokesperson in a statement shared with The Hill called controversy over Carlson's comments "unfortunate and unnecessary distractions."
"It is a shame that left-wing advocacy groups, under the guise of being supposed 'media watchdogs' weaponize social media against companies in an effort to stifle free speech. We continue to stand by and work with our advertisers through these unfortunate and unnecessary distractions," the statement said.