Pete Frates, whose battle with ALS inspired 'Ice Bucket Challenge,' dies at 34

WCVB Boston
12/9/2019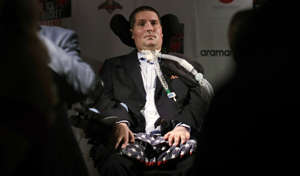 © Associated Press Pete Frates, whose battle with ALS inspired the "Ice Bucket Challenge" and raised millions of dollars for research and awareness for the disease, has died.
"Pete passed away surrounded by his loving family, peacefully at age 34, after a heroic battle with ALS," his alma mater, Boston College, said in a statement.
Frates is survived by his wife Julie, daughter Lucy and parents John and Nancy.
"Pete was an inspiration to so many people around the world who drew strength from his courage and resiliency," BC's statement continued.
Frates, a Beverly, Mass., native and former Boston College baseball star, was diagnosed in 2012 with amyotrophic lateral sclerosis, or ALS, also known as Lou Gehrig's disease. There is no known cure for the disease, which weakens muscles and impairs physical functioning.
More than five years ago, Frates and Pat Quinn, of Yonkers, inspired the Ice Bucket Challenge.
As the challenge spread, approximately 17 million people around the world doused themselves with a bucket of icy water. The challenge raised awareness and more than $200 million in donations for work on a cure for the debilitating illness.
Related Video: How Ice Bucket Challenge Creator Used Social Media to Create a Movement (Provided by Today)