Soledad O'Brien Accuses CNN Of Giving 'Racists' Airtime To Score Higher Ratings

HuffPost
11/26/2018
Video by Veuer
Veteran journalist and former CNN anchor Soledad O'Brien tore into the network on Sunday for giving airtime to "racists" and "white supremacists" in what she described as an effort to boost ratings.
The host of Hearst Television's "Matter Of Fact" didn't mince words in her response to a Twitter thread created by Shareblue's Oliver Willis that bashed CNN hosts for calling out "abhorrent behavior" and then inviting commentators on their shows who engage in such behavior.
"They give a platform ― and their credibility ― to racists/white supremacists/ all in the name of 'hearing them out,' (which is a ratings ploy btw)," wrote O'Brien, who left CNN in 2013 after 10 years with the network.
O'Brien doubled down on her CNN shade on Monday, tweeting that she had expressed the same criticism in the past.
"It was true then and remains true today," she wrote.
CNN has taken heat for its guests' and paid contributors' offensive and/or factually inaccurate remarks in recent months. It's unclear whether a specific show segment inspired Willis to criticize the network. He appeared to mock what he believes to be CNN's strategy in one of his tweets Sunday:
"Gassing toddlers and putting babies in cages is disgusting and beyond the pale! our next guest will now defend those things i just said are reprehensible, because every point of view is viable," he wrote.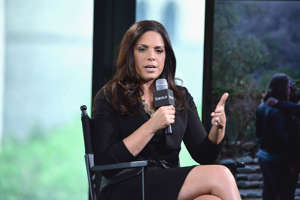 © Getty NEW YORK, NY - MAY 20: Broadcast journalist and executive producer Soledad O'Brien discusses 'Soledad O'Brien Presents: The War Comes Home - The New Battlefront' during AOL BUILD presents Series at AOL Studios In New York on May 20, 2016 in New York City. (Photo by Gary Gershoff/WireImage) Earlier Sunday, Rick Santorum, a CNN commentator and twice-failed Republican candidate for president, stirred up controversy when he claimed, without evidence, that government climate scientists were being "driven by money." Critics called on CNN to drop Santorum as a paid contributor for peddling a conspiracy theory.
CNN did not immediately respond to HuffPost's request for comment.
This story has been updated with additional comment from O'Brien.
This article originally appeared on
HuffPost
.