Special Edition #SmartList: Editorials speak up for press freedom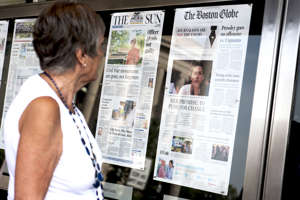 © Eric Baradat/AFP/Getty Images The front page of the Boston Globe August 16, 2018 edition is on display outside the Newseum in Washington DC on August 16,2018. - US newspapers big and small hit back Thursday at Donald Trump's relentless attacks on the news media with a coordinated campaign of editorials, triggering a fresh tirade from the president on Twitter. Leading the charge was The Boston Globe, which had called for the drive highlighting the importance of a free press, accompanied by the hashtag #EnemyOfNone

Responding to a call by The Boston Globe last week for a coordinated response to President Trump's frequent attacks on the news media, an estimated 350 newspapers and media publications across the country were set to publish editorial pieces today denouncing those attacks and defending press freedom in America.
From major publications to small community papers with circulations of only a few thousand, we have gathered excerpts from their responses, including some who explicitly declined the Globe's call, selected from MSN's hundreds of partners across the political spectrum. 
You can read these editorials in their entirety all in one place on our Opinion page. And the #SmartList team will be updating this list throughout the day with the latest highlights. 
BOSTON GLOBE: Journalists are not the enemy
For more than two centuries, this foundational American principle has protected journalists at home and served as a model for free nations abroad. Today it is under serious threat. And it sends an alarming signal to despots from Ankara to Moscow, Beijing to Baghdad, that journalists can be treated as a domestic enemy.
THE WASHINGTON POST: Patti Davis: My father, Ronald Reagan, would never have stood for this
I've tried to imagine what my father would have done if people attending a political speech of his had turned to the press and raised their middle fingers, hurled obscenities or physically menaced the reporters who were there doing their jobs. I found it difficult to conjure the image, and then I realized why. It simply wouldn't have happened. The person on the podium, the person everyone has gathered to see, sets the tone.
NEW YORK TIMES: A free press needs you
In 2018, some of the most damaging attacks are coming from government officials. Criticizing the news media — for underplaying or overplaying stories, for getting something wrong — is entirely right. News reporters and editors are human, and make mistakes. Correcting them is core to our job. But insisting that truths you don't like are "fake news" is dangerous to the lifeblood of democracy. And calling journalists the "enemy of the people" is dangerous, period.
LOS ANGELES TIMES: The Los Angeles Times is not participating in today's nationwide editorial page protest. Here's why
The Los Angeles Times editorial board does not speak for the New York Times or for the Boston Globe or the Chicago Tribune or the Denver Post. We share certain opinions with those newspapers; we disagree on other things. Even when we do agree with another editorial page — on the death penalty or climate change or war in Afghanistan, say — we reach our own decisions and positions after careful consultation and deliberation among ourselves, and then we write our own editorials. We would not want to leave the impression that we take our lead from others, or that we engage in groupthink.
The president himself already treats the media as a cabal — "enemies of the people," he has called us, suggesting over and over that we're in cahoots to do damage to the country. The idea of joining together to protest him seems almost to encourage that kind of conspiracy thinking by the president and his loyalists. Why give them ammunition to scream about "collusion"?
We mean no disrespect to those who have decided to write on this important subject today. But we will continue to write about the issue on our own schedule.
THE ATLANTIC: Dan Rather: Why a Free Press Matters
The institution of a free press in America is presently in a state of crisis greater than I have ever seen in my lifetime, and perhaps in any moment in this nation's history. The winds of instability howl from many directions: a sustained attack on press freedom from those in political power, crumbling business models, rapidly changing technologies, and some self-inflicted wounds. This is a test, not only for those of us who work in journalism, but also for the nation as a whole.
NATIONAL REVIEW: 'Enemies of the People'
I have talked to many journalists at "mainstream" outlets who insist with great sincerity that their only motive is to get the story right, yet their institutions consistently refuse to hire anyone who might seriously challenge the dominant views in the newsroom. If these newspapers' editorial or reporting staffs were 20 percent, even 10 percent, made up of Trump supporters — keep in mind that the president won almost half of the vote in 2016 and has an approval rating north of 40 percent today — their news coverage would be dramatically different. But at the end of the day, protestations to the contrary aside, they have no real interest in doing so.
USA TODAY: What our investigative journalists expose isn't fake news
As these politically motivated attacks on the news media continue to gain traction, we risk losing the faithful watchdogs for our communities. That would be tragic. Every day, people call us, from across America, seeking our help. Not one asks our party affiliation.
I can reassure you that truth eventually wins. Injustices get corrected.
And despite the divisive rhetoric, readers trust us, with their time and wallets.
CNN: If the media speaks with one voice, Trump will have to listen
Trump has sought to divide and conquer, to pit journalists against each other. When Trump attacks one media organization, others do not necessarily rush to its defense. At times our country is well served by a media that is fractious, independent and competing for access and information. It takes a lot to bring the media together.
Ironically, Trump may have succeeded. Even Fox News spoke up in support of its historic rival CNN when one of the network's White House reporters, Kaitlan Collins, was barred from a media event.
The reality is that no single journalist -- even the most powerful -- can stand up to Trump. But if the media can speak with one voice on the critical issue of press freedom, perhaps even the President will have to listen.
HARTFORD COURANT: The President Wants You To Think We're The Enemy. Here's What We Really Do
Reporters at The Courant write about seniors in probate court whose savings are at risk and about how leaders need to do more to help hundreds, maybe thousands of residents faced with crumbling foundations. We kept telling the story of tenants in Hartford living in substandard apartments until the federal government stepped in and agreed to help them find new places to live. We're at high school football games, at zoning hearings and the latest show so that we can help you decide if it's worth going.
And when the unthinkable happens and 6-year-olds are gunned down at school, we wrestle with our own shock and grief while telling a stunned state the story.
Doesn't sound like the nefarious work of enemies of the American people. Sounds like people who care about the community where they own homes, pay taxes, send their kids to school. Who believe, simply, that truth can help us all lead better lives.
EXAMINER: The press is not the enemy of the people, but it sometimes acts like it
Hundreds of our colleagues in the media today are standing in unison against President Trump's angry anti-media bluster — bluster that has spurred some Trump supporters to threaten and heckle journalists. Although we find the groupthink here a bit unseemly for opinion pages, which are supposed to be independent voices, we agree with these editorials that Trump's rhetoric is dumb and harmful.
But that can't be all. We encourage our colleagues to follow up on today's show of solidarity with some introspection. Specifically, we journalists should all ask, "What are we doing that allows Trump to convince so many of 'the people' that we are their 'enemy?'"
For starters, we journalists should stop attacking the people we are supposed to be informing.
MORE EDITORIALS ON MSN
SALON: Newspapers congratulate selves for First Amendment. OK! Now get back to work
SAN ANTONIO EXPRESS-NEWS: In combating 'fake news,' local journalism becomes more important
MILWAUKEE JOURNAL-SENTINEL: As Founders intended, democracy functions best with a free, independent press
LOHUD.COM: Let's reaffirm the pivotal, undeniable role of a #FreePress
DETROIT FREE PRESS: Defending my profession amid 'enemy of the people' rhetoric
CHICAGO TRIBUNE: Trump and the press
ARIZONA REPUBLIC: Journalists, don't let Trump's attacks on media keep us from doing our job
THE CAPITAL-GAZETTE: We are more concerned about locals' views than President Trump's
HOUSTON CHRONICLE: The real enemy of the people? It's not us
THE GUARDIAN: The Guardian view on the press and Donald Trump: at work, not at war
NEW YORK DAILY NEWS: Cut it out, Mr. President: Stop vilifying the news media
THE INDEPENDENT: American newspapers have come out against Trump – and this is why it won't change a thing
THE HILL: With bash-Trump day, press acts like opposition party
PROPUBLICA: A Free Press Works for All of Us
THE ATLANTIC: The Freedom of the Press is Yours
PITTSBURGH POST-GAZETTE: No more enemies: Trump and the press must practice mutual respect
THE DAILY BEAST: War Correspondent: The Last Time I Was Called 'An Enemy of the People'
BALTIMORE SUN: News media won't back down under pressure from president
ASHEVILLE CITIZEN TIMES: We are not your enemy. And we aren't going away.
CBS NEWS: Newspapers don't help themselves by coordinating against Trump
EXAMINER: Newspapers use anti-Trump op-eds to boost subscriptions
SAN FRANCISCO CHRONICLE: Why the San Francisco Chronicle isn't joining the editorial crowd on Trump
MCCLATCHY PAPERS: President Trump, we're not 'enemies of the people.' End your war on the free press
TAMPA BAY TIMES: Journalists are friends of democracy, not the enemy
SUN-SENTINEL: President Trump, the press isn't the 'enemy' — it's America's watchdog